Our BPO and back-office advisor
in Poland
Back-office services in Poland
The getsix Group is specialized in back-office services for other companies. We provide best-in-class accounting, payroll, sales, procurement and back-office services for your business! We have many years of experience, gained in numerous completed outsourcing projects, we have satisfied customers from many countries, teams of best professionals and the latest technology.
Poland is the country of choice, when the companies from Europe, mainly from German-speaking countries (Germany, Switzerland, Austria), go for back-office solutions. Mainly because of experience and intellectual potential of local specialists. Poles are very well educated, fluent in English and German, well organized and they deliver on time.
Check out our back-office services and what your company benefits from working with getsix Business Process Outsourcing.
---
Back-office – your business in experts' hands
Back-office is the part of the organization that supports the core business activities of the company. It is complementary to the front office, which deals with the main business activities, contacts with suppliers and customers. Typical back-office departments are: IT, legal, finance and accounting and HR. However also Sales and Procurement have their back-office part.
Back-office functions are essential for the proper functioning of the business. They are increasingly being outsourced to companies specialized in the respective services (inshoring, offshoring and nearshoring) or transferred to another country within the organization (insourcing).
For many companies, decision about outsourcing is a part of their cost optimization process, as it less expensive to outsource than to maintain and train own employees in the IT, legal, accounting or HR departments. By using getsix back-office, you will be assured that these tasks will be handled on time, in accordance with the latest legal regulations and according to the highest business standards. You will be able to focus on what is most important in your business!
---
getsix BPO Services - Back-office outsourcing
We provide back-office outsourcing services for both Polish and international companies. We specialize in the outsourcing of bookkeeping, accounting, tax, payroll, office services, procurement and sales processes.
We offer the possibility of integration of your company's IT system with ours - so our experts can work directly on your IT systems, what will accelerate the optimization of your business processes. We offer also Customer Extranet - the customer system and interface to other getsix IT systems.
Our IT Solutions Expert
What differentiates us from others?
Account manager and highly personalized customer service;
Customer Extranet - the customer portal where you can check all your data, in real time;
Information Security Management System certification in accordance with ISO/IEC 27000;
highly educated and experienced experts - TÜV NORD ISO 9001:2015 certified;
getsix® is part of HLB International - a prestigious international network of consulting and auditing firms;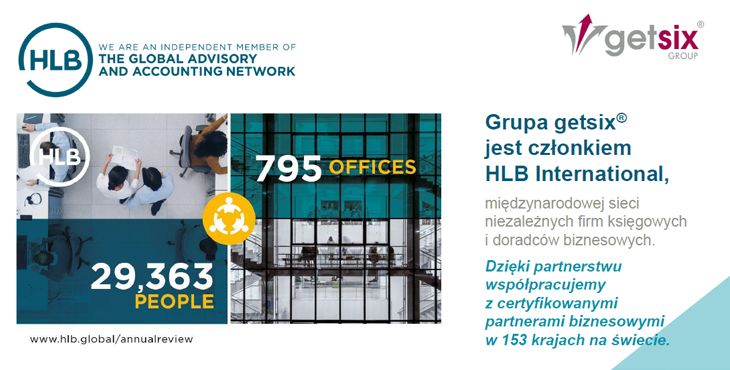 ---
getsix back-office solutions - automation and data capture in BPO
We use state-of-the-art technology to automate outsourcing processes and provide remote customer servicing, within the back-office concept, at the highest level. These include:
hybrid cloud solutions - provide simplified workflows. Getsix experts will advise you on how to increase productivity by combining/integrating your company's IT structure with our cloud services; LINK »
OCR and process automation - the Kofax tool allows you to create digital versions of paper documents. These can then be used in specialized software and business applications. We digitize, among others: accounting documents, invoices and forms. LINK »
---
Our successfully completed back-office projects
Capturing accounting data from paper documents
Manual data input into the customer's accounting system
Providing access to our accounting system for issuing sales invoices what allows automatic posting
Passive client access to data from our accounting system
Capturing of accounting data from PDF documents
Outsourcing of staff - data entry and validation into the client's accounting system
Scope of getsix Business Process Outsourcing:
Back-office accounting

- bookkeeping, data entry into the client's system or transfer into the appropriate format, preparation of tax returns, financial statements, accounting supervision and debt collection;

Payroll back-office

- input of payroll data, spreadsheets into the client's system, payroll processing

Office services

- clerical support, ordering of materials, cleaning of database, organization of business trips LINK »

Procurement back-office

- comparing invoice prices with price lists, placing and processing orders;

Sales back-office

- order management, customer satisfaction surveys, issuing invoices and sales documents.
Use getsix BPO and put your Back-office in the hands of professionals! Reduce costs and avoid unnecessary risks with state-of-the-art outsourcing solutions and experienced getsix specialists. Feel free to contact us!
Advantages of getsix BPO Back-office services:
increased company productivity - you focus on your core business and you delegate all back-office and outsourcing services to getsix experts;
increased satisfaction of your staff - outsourcing takes care of the simplest, repetitive tasks.
Business Process Outsourcing in Poland
Poland has been for years one of the most important locations for the outsourcing of back-office business services. According to ABSL data, at the end of Q1 2022, there were more than 1,714 BPO, SSC/GBS, IT and R&D business service centres in Poland, representing 1,068 companies. They employed 403,000 people (11.6 per cent more than at the end of Q1 2021). 338,000 of these work in foreign-owned centres (82.6 per cent) and 69,500 work in Polish centres (17.4 per cent). Centres operating in Poland come from 46 countries.
Since 2016, the total number of jobs in the sector has increased by as much as 63 per cent. At the same time, forecasts show further growth - by 2023, employment in the business services sector should increase to 432,000 people. Poland is the leader in Central and Eastern Europe (CEE), both in terms of employment in the sector and the number of shared service centres. They are mainly located in Warsaw, Kraków and Wrocław. Just behind them - in terms of the number of back-offices - are also Gdansk region, Katowice, Poznan and Lodz.
The main areas of activity of the BPO sector are:
finance and accounting;
human resources and payroll;
IT;
customer service;
marketing;
administration;
procurement
logistics.