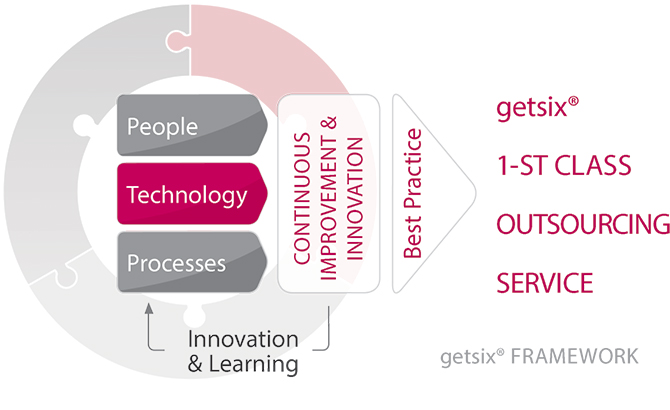 ---
Technology is a key driver of enterprise strategy, and can have huge impact if driven smartly. That is, technology should be highly usable, with shorter implementation times, ease of configuration, mobility and seamlessly accessed through the internet.
With our large Information Technology services practice, we bring transformational impact to our customers by combining BPO Solutions and Cloud Solutions expertise with high-end technology development capability. We deliver a full spectrum of IT services including application development and maintenance, IT managed services, enterprise application services, and business and domain consulting.
The services help customers intelligently leverage latest computing and mobility trends by harnessing the power of platforms and technologies, built using insights from existing processes.
Business Platforms are the future of business process outsourcing and represent the true fusion of the benefits provided by standardized business processes, cloud computing, and SaaS in a singular managed service delivery model.
The changes in the outsourcing industry lets our Customers asking, 'Can we avoid historically large investments and archive major advanced by combining BPO and technology?'
Adopting solutions that couple BPO and cloud-based solutions can potentially provide that trigger.
Over the years, we have built a number of technologies and platforms, many of them flexible enough to be bolted on to the existing technologies of our customers. What makes them unique is that they all have intelligence built in. We do it through strong analytical insights distilled from best–in-class processes applied back to technology.
The technologies and platform offerings include end-to-end solutions, industry-specific solutions, horizontal process solutions, legacy extensions, transition, and visibility solutions. These technologies are on our cloud, accessible from anywhere in the world for our customers.
Our getsix® Business Platform is the fusion of Cloud Computing, SaaS and BPO innovations in an integrated singular managed service. Our Business Platform will enable our Customers to rapidly transition to a desired future state for a specific business process, of set of processes. Some characteristics of our Business Platform are
Delivers standardized business processes to our Customers;
getsix® as the service provider of our business platform is managing the business processes associated with Business Platform and furnish the complete solution, including the people that operate them, the under laying software platforms and the infrastructure;
The getsix® Business Platform focus on business outputs or outcomes such as improved working capital for our customers.
Our Business Platform provides our Customers compelling technology-enabled business process services that help drive innovation via process re-engineering, greater business agility, and productivity improvements.