International Transport Services
Transport, or more broadly TSL (transport-shipping-logistics) is one of the most important industries, playing a key role in economies around the world. Due to its specificity and complexity, bookkeeping in a transport or forwarding company is not an easy task. It is influenced by, among others, discrepancies in legal systems of various countries and lack of cohesion of regulations within the European Union. Therefore, it is worth using the help of professionals.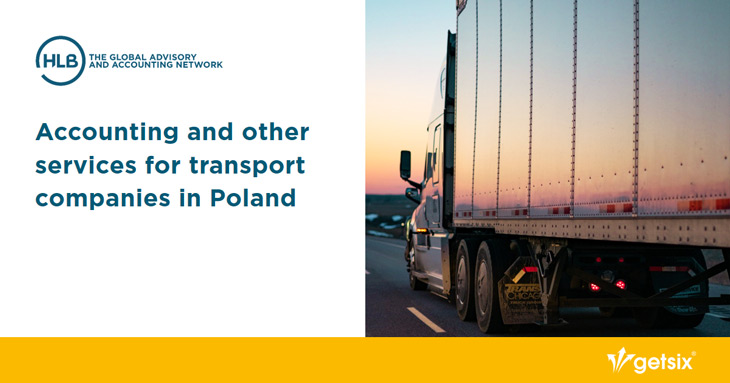 ---
Starting a transport company in Poland
If you are thinking about setting up a transport company in Poland. We are here to help you with the following topics:
Registration of a transport company
Assistance in obtaining the appropriate licenses
Support in Acquisition of the transport license in Poland
Support in hiring Polish employees (drivers)
Support in hiring and allocation of foreign workers in Poland.
Accounting for transport company
We offer you outsourcing of complex accounting and financial services for transport companies. All activities for the transport sector are focused on providing you with full accounting, tax and financial services so that you can focus solely on your duties. We use our knowledge of the industry and the latest technological solutions.
---

/ Our Publications
Modern Accounting on Microsoft Dynamics 365 Business Central system
Customers have various options for cooperating with getsix® Group on accounting services, depending on their needs and legal requirements. If a company does not have its own financial and accounting system or feels the need to change it, as one of the solutions available from getsix®, we suggest implementing the ERP accounting module Microsoft Dynamics 365 Business Central (formerly Microsoft Dynamics NAV).
Our offer for transport companies
The range of activities for you includes, among others:
Calculation of salaries based on drivers' working time records - analysis and settlement of drivers' working time based on driver card and tachograph data, as well as calculation of salaries. We ensure compliance with national regulations and other countries' systems relating to minimum wages on their territory;
Preparation of reports and cost structure and their optimization - by vehicle and by driver;
keeping full accounting documentation;
tax consultancy - reimbursement of input VAT in EU countries: on fuel, freeway tolls and other costs related to business activity;
accounting for business travels, handling business trips;
support in obtaining EU subsidies - transport companies can benefit from a number of EU funding programs, the funds of which are allocated to the activities related to transport services;
reporting activities - assistance in the event of tax inspections or labour inspection.
Our Finance & Accounting Expert
English Desk - Your English-speaking office in Poland
We offer our clients from the transport industry a specialized service called "English Desk". It allows you to open a representative office in Poland with an English speaking advisor.
What does such an office offer to a transport company? Many companies nowadays operate outside of their country of origin. The English Desk in Poland provides tax, accounting and legal services in Poland, taking into account alignment with the corporate requirements of the parent company's state, and conducted in English language.
Our tax advisors, fluent in English, will translate the Polish legal, tax and accounting complexities into your reality, explain the differences and propose appropriate solutions tailored to your individual needs.
You can count on comprehensive legal and accounting support both during the establishment and registration of your subsidiary in Poland, as well as the subsequent support for ongoing operations, including financial accounting, payroll and HR settlements, management accounting, tax services, preparation of financial statements and support during audits.
More information about our country Desks in Poland can be found at LINK »
---
What else makes us different:
individual customer service;
innovative service and technology platform;
getsix® is part of HLB International being an international network of consulting and auditing firms;
possibility to create individual analyses (Big Data Analytics - Real-Time Analytics);
reporting and communication in three languages (Polish, English and German);
the quality of our services has been confirmed by the TÜV NORD ISO 9001:2015 certificate;
the highest security standards in accordance with ISO/IEC 2700.
You can find more information about accounting, payroll and tax services in our services section.