Poland - It Really is a Safe Destination for New Investment
Company registration services in Poland
Please feel free to contact us via our contact form:
We are supporting business in Poland for more than 10 years. Our experience and international contact network will help you in achieving your goals.
If you want to 'Invest in Poland' you should analyse through the success stories of thousands of companies that have made new investments since the fall of communism in 1989. Boasting over 20 years of stable GDP growth, the country provides a business friendly environment for investors. Poland has become a central point of interest for investors, not only within Central and Eastern Europe (CEE), but also for all of Europe and the World.
Poland has one of the largest and strongest consumer markets (38-million) in the centre of Europe, and with this favourable location are where main communication routes intersect. This makes it even possible to export goods to all European countries, thus reaching over 500 million consumers. The country's sustainable development has been created on solid economic foundations, thus 'Invest in Poland' really can be a very successful option.
---
Investors can benefit from a strong economic relationship with the Eurozone, as part of the EU's common market. While providing a business friendly environment for foreign investors, due to its economic stability and highly skilled employees who are proficient in numerous languages. This paired with Poland's 'Special Economic Zones' (SEZs) which are among the top free zones in the World*.
Poland is 5th in Europe when it comes to the inflow of new FDI projects. For example, in 2018, it attracted USD 15.5-billion in foreign direct investment (which is a 7% share of the European market). Furthermore, Poland ranks 2nd as an FDI destination in Europe by the numbers of jobs created.
Poland has impressed the World according to the reports on emerging markets, with the country offering one of the largest increases in revenues within the region. Many investors are already 'Doing Business in Poland' due to the previously mentioned attractive consumer market, well-educated workforce, and strategic location, so confidence is already high. In Poland it is understood that by selecting a country, investors are kind of speculating on their own business cases, their own future income, and also on their own careers. getsix® understands the how.
---
In our Opinion, how do we think Poland will Develop?
There are various forecasts showing how Poland's GDP growth with develop over 2021 to 2023, from the International Monetary Fund forecasts 2.8%, with other experts being more optimistic at 4%. But overall Poland comes out well if you compare to the Eurozone, with GDP for 2020 being at 1.7%.
In the coming years, we see Poland as an excellent investment location. It is highly probable that the Polish economy will be marked by stable growth and increasing competitiveness across the global market. We also see the disparities between western and eastern Poland being systemically reduced, with EU funds already having added impetus to the development of eastern Poland, which has become significantly more attractive to investors. There is also planned regulations on state aid which will contribute further to the boom in the east of Poland.
---
How can we Help? getsix® can assist you in this attractive market
getsix® can help with inward investments to Poland by being your strong business partner. We know Poland. Let getsix® enable your investment to reach its full potential by providing up-to-date services and solutions, along with tax and legal expertise.
---
'Invest in Poland' - Key Advantages!
Over 20 years of stable GDP
Offers highest levels of investment support
Special Economic Zone (SEZ)
Strong economic relationship with Eurozone
Strategic location
Great talent pool
We invite you to learn more about the latest legal, accounting and employment law changes. We have gathered them in a free e-book, which you can download from the website: Effective Investing in Poland.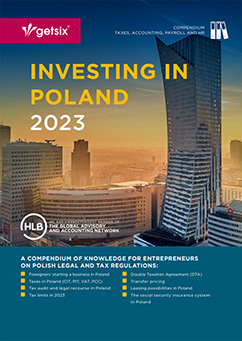 *The fDi Report 2019 Global greenfield investment trends, Doing Business, fDi magazine's Global Free Zones