Our Customer Relation Expert:
Do you run a business in the IT industry? Are you looking for reliable accounting, HR or tax consulting services? With the help of an experienced company, you will be able to save money on taxes and focus on what is most important - developing your business. By working with us, you can be sure that your business runs smoothly, and the documentation is kept correctly and always on time. We offer a wide range of services, including bookkeeping, payroll and tax advice.
---

/ Our Publications
Modern Accounting on Microsoft Dynamics 365 Business Central system
Customers have various options for cooperating with getsix® Group on accounting services, depending on their needs and legal requirements. If a company does not have its own financial and accounting system or has the need to change it, as one of the solutions available from getsix®, we suggest implementing the ERP accounting module Microsoft Dynamics 365 Business Central (formerly Microsoft Dynamics NAV).
Accounting for IT companies - what to look for and what to be aware of?
1. A wide range of services
As part of a comprehensive service for the company, our offices offer companies from the IT industry:
cost accounting,
analysis of profitability of products, services and projects;
assistance in stocktaking of fixed assets,
preparation and consolidation of financial statements with group reports,
support during merger and acquisition procedures,
business valuation.
2. Knowledge of the specifics of the IT industry
When choosing an accounting office, an IT company should be sure that the accountants and tax advisors are really familiar with the technology industry will apply solutions tailored to the specific revenue and costs of this type of business. Our clients include many technology companies. We have the experience necessary to reliably service this sector.
Employees of an accounting firm who never worked in the IT industry may find it difficult to properly record costs associated with specialized equipment, paid subscriptions or licenses for software or copyrights for unusual (in other industries) works such as source codes.
3. Human resources and payroll - Understanding the expectations of IT professionals
Employee matters such as the form of employment, billing and rewards for IT professionals and regular non-wage benefits may raise some questions for less experienced HR personnel.
Our experts have years of experience in accounting and payroll services for companies in the IT sector. Some of them perfected their skills in accounting or human resources departments of technology companies, so they know their characteristics and to which issues pay special attention to.
4. Flexibility and willingness to develop
The IT services market is changing faster than ever before. Not so long ago, technological development was driven by new hardware and software. Today, agile software development and cloud solutions are the trend. This has significantly changed the way companies use applications and how they are extended.
With the expectations of IT entrepreneurs in mind, we are constantly developing our accounting and consulting services to seamlessly adapt to new market conditions - which are not always followed by relevant regulations. A high degree of flexibility is required by clients seeking help with issues where off-the-shelf accounting solutions are not applicable. These problems often involve complex business processes that require the knowledge of an experienced expert to resolve them quickly without disrupting the business.
We also strive to maintain agile practices when implementing new processes and computerizing our company. We are able to perform project-based data analysis for you. We use Power BI software for this purpose. You can read more about data analysis here. LINK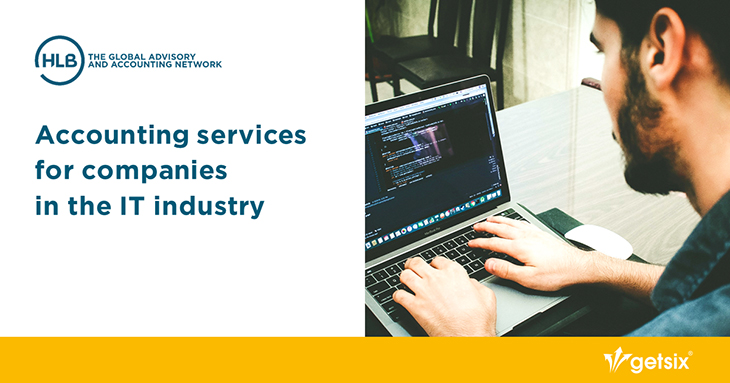 ---
5. Knowledge of regulations concerning the IT industry
In case of the IT industry it is very important to constantly monitor changes in the law and to have regular contact with public administration institutions. Without knowledge of changes and legal interpretations specific to the industry, it is not possible to implement appropriate accounting or human resources solutions.
Unfortunately, legal regulations often do not keep up with the development of modern technology, so not all economic events in the IT sector will be reflected in the current state of the law. The role of the accounting office in such a situation will be to reliably inform you about the available solutions. For this purpose we support you with our legal and tax department.
6. Online communication with the accounting office - Teams - Customer Extranet
An equally important aspect of cooperation between technology companies and an accounting office is the form of communication. It is worth noting that despite the rapidly growing remote communication that the IT industry is accustomed to, many accounting firms still operate within traditional solutions.
When deciding on a company that handles accounting and payroll matters, you should pay particular attention to the technology and communication solutions used.
In the digital era, when more and more companies are opting to work remotely - unlimited remote access to financial and accounting documentation or necessary summaries and reports has become particularly important.
When using remote services, special care should be taken to ensure that company data is properly secured. A great facilitation will also be the possibility of self-organization of documents in folders and ease of use of the communication platform's user panel.
In order to meet these expectations, as part of our services we provide you with the possibility of using the Customer Extranet , which enables instant and completely remote exchange of documents and information between our clients and their accountants.
7. Development of IT companies on the international market
IT companies often sell their products and services abroad, facing language or legal barriers. This can complicate the sales process and also limit the company's efficiency. Having local legal and tax advisors can help companies address these issues and provide better support to international customers.
We can complete all tax and legal procedures on your behalf and provide you with all necessary documents. We have a strong network of partners in 153 countries worldwide. So we can help your company expand overseas as well as provide local services.
Learn more about our support in the international arena
8. Accounting for foreign sales in the IT industry
Expert accountants are needed to set up the right financial structures for foreign sales or to help with the complex cross-border tax reporting requirements. But implementing a global accounting system can be difficult for many companies because they don't have the expertise needed to handle international transactions - especially on tax issues.
We can help you with international tax planning, ensuring compliance with local tax rules and regulations in different jurisdictions by properly maintaining accounting records to international standards and filing tax returns for VAT registration in foreign countries.
9. Handling of IP BOX tax relief by accounting office
IP BOX tax relief for technology industry is designed to support research and development activities. It is available to entrepreneurs who earn income from qualified intellectual property rights and meet certain requirements. Under the relief, it is possible to apply a preferential income tax rate of 5% to such income.
However, due to the multitude of obligations and complexity of tax interpretations, many companies operating in the IT sector resign from this relief because they do not know whether they meet its conditions.
Our accounting office will verify the services provided by your company in terms of eligibility for the IP Box tax relief and will help you prepare the necessary documents and, if necessary, request an interpretation of the relief.
10. Accounting of subsidies for IT industry
National and international support programs offer grants for business development at every stage. Funds can be used for research and development, market research, product testing, prototyping, qualification upgrading and other activities that enhance the company's ability to compete in global markets.
Due to the nature of public funding, meticulous, detailed reporting in accordance with the standards established by the grantor is essential. Correct accounting for grants is a great challenge, and mistakes made at the reporting stage can lead to the suspension of pay-out of those of funds (or even worse, their cancellation and subsequent repayment of already advanced to the client financial means). Therefore, experienced accountants, who know the standards and procedures for accounting of public funds, play a key role here.
---
Our accounting services for the IT industry:
Full bookkeeping for any form of business.
Representation before the Polish tax office.
Efficient recording of specific income and costs in the IT industry.
Accounting of international settlements in foreign currencies
Analysis of IP Box tax relief eligibility.
Preparing cost reports
Project profitability analysis.
Audit of financial documentation of a company.
---
Our HR and payroll services for the IT industry:
Maintenance of personnel and payroll documentation.
Representation before the Polish social security office (ZUS).
Handling of settlements with PFRON (Polish National Fund for Rehabilitation of Disabled Persons).
Keeping records of working time.
Preparation of contracts of employment, contracts of mandate, contracts for specific work and bills for civil law contracts.
Calculation of wages and preparation of payroll.
Keeping vacation records.
Preparation of information on income earned by employees and collected advance payments for income tax.
Polish employee capital plans (PPK).
Modern technological solutions as well as the knowledge and experience of our specialists guarantee top class services for IT companies. Our staff will help you choosing the most advantageous solutions for your company and will provide detailed advice on legal and tax issues.
We will be an indispensable business partner for you if:
You are thinking about hiring programmers on non-standard terms
You provide services in Poland and abroad.
You focus on rapid development and need a flexible business partner.
You appreciate the use of modern solutions in different areas of your business.
You expect personalized reports from your accounting data.
Your company is part of a larger group that needs an international accounting and reporting system.
Our Finance & Accounting Expert
Our Accounting service for IT companies - what makes us different:
Personalized customer service
Every customer has a direct contact person and a team to support him.
getsix® is part of HLB International
You can count on support from an international network of consulting and auditing firms.
Customer Extranet
You have the possibility to use our customer portal, where we make the latest data available to you online.
Special reports and analyses
Reliable data analysis is becoming more and more important every day. It can become the basis of your competitive advantage. This is why we offer you the option of creating individual analyses (Big Data Analytics - Real-Time Analytics - Power BI) in addition to the standard reports available on your extranet.
Reporting and communication in 3 languages
Reporting and communication available in Polish, German and English.
Well-trained and well-organized professional staff
The quality of our services has been certified by TÜV NORD ISO 9001:2015.
The highest security standards
The security of your data is a priority for us. That is why our IT department renews the Information Security Management System certificate in accordance with ISO/IEC 2700 every year
Our offices providing accounting, tax and legal services are located in attractive locations throughout the country.
We encourage you to visit our accounting offices, which provide accounting services for the IT industry, and to contact us through the form available on our website.