Our BPO and back-office advisor
in Poland
We support your internal processes with our experience, technology and manpower.
We provide back-office services to Polish and international companies. We specialize in outsourcing of office processes, accounting and HR services, engineering, purchasing and sales back-office. We capture data from scanned and paper documents. We are an experienced and reliable business partner. We have been operating on the Polish market since 2007. We are an active member of HLB Global - an international association of auditing and accounting firms. We have gained a lot of our business experience from this cooperation.
---
How to start cooperation in the area of process optimisation and BPO?
Please describe briefly what you are looking for. Our consultant will get back to you immediately.
Contact »
Identification of your needs.
Process optimization proposal.
Project implementation time frame.
Signing of contract and beginning of cooperation
Once the details are agreed, we sign the contract and start cooperation according
to the project plan.
---
Possibility of integration with your IT systems
Our employees can use your IT systems. In cooperation with you, our IT department will take care of the software integration in order to optimise your business processes.
We optimize your processes with our technology and our experience.
Thanks to experience of our IT department, we can provide you with an interface to our IT systems or connect our computers to your software. We will be able to use your IT systems and enter data directly into them.
Our IT Solutions Expert
Accounting back-office

- entering accounting data into client's system or uploading in agreed format.

HR back-office

- entering HR data or spreadsheets into client's system or spreadsheets, uploading data in agreed format.

Back-office

- phone call and e-mail answering, OCR and scanning services, data entry, data cleaning, business trip organization, office supplies ordering LINK »

Purchasing back-office

- Price list/invoice reconciliation, strategic purchasing, operational procurement, savings calculation.

Sales back-office

- Customer order management, invoicing, customer satisfaction surveys.
---
Our hybrid solutions, automation and data analytics in BPO
Hybrid solutions in the cloud, offer simplification at the interface of processes in different organizations. Our specialists will advise you how to increase the efficiency of your processes by combining or integrating your IT structure with our cloud services. For example: you can combine your current way of working with getsix BPO services: accounting, payroll, HR, back-office procurement, and sales. Such a combination will increase the flexibility and speed of your business, will allow you to grow faster and avoid bottlenecks. LINK »
OCR and process automation
Scanning and digitalization of documents (not only accounting documents). As part of the Kofax service, we transform your paper documents into a digital version, enabling you to quickly and conveniently analyze the information they contain and use it in other programs and business applications. We scan and digitize accounting documentation, invoices, forms and other types of documents.
---
Account manager


Every client gets a direct contact person, speaking foreign languages, and a team to support them.

Highest security standards


The security of your data is our top priority, this is why our IT department annually renews its Information Security Management System certification in accordance with ISO/IEC 27000.

Customer Extranet


You can access your up-to-date data in our customer portal.

Educated and well-organized staff


The quality of our services has been confirmed by the TÜV NORD ISO 9001:2015 certificate.

getsix® is a part of HLB International


an international network of consulting and auditing companies: Read more »
Increase of business efficiency


You can concentrate on your core business activities, while ensuring that your side processes are meticulously managed and reported on.

A solution to the labour shortage in the local market


If you have problems finding employees in the local market - we are the answer to your problems.

Increase of team satisfaction


You reduce personnel costs and increase the chances of retaining qualified employees by supporting them in the simplest, most repetitive tasks.
---
in numbers:
54
Years of experience
156
Countries
40,831
Employees
2210
Partner Firms
1128
Offices worldwide
10
Global ranking
25%
Network growth
10%
Cross-border growth
---
Our completed BPO projects
Capturing accounting data from paper documents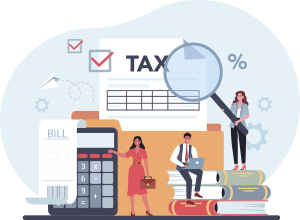 Client: Authorized distributor of renowned brands, with employees in six locations in Germany and Poland.
Sector: Industry
Competencies: Kofax, Dynamics NAV, API
Business requirement: To streamline the process of feeding data into the accounting system, reducing costs and time linked with manual accounting work.
Solutions developed: The client sends us invoices in paper or electronic form. A dedicated employee in our Wrocław BPO center tags the documents with a barcode and then scans them. Thanks to the integration of Kofax TotalAgility and Kofax Capture, the processed data goes directly to the MS-Dynamics NAV accounting system where it is further processed by the accounting department. Created was a complex system that is constantly extended with new components.
Manual data entry into the client's accounting system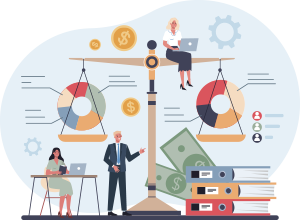 Client: Swiss company with around 300 employees. The new owner plans to expand in German-speaking countries.
Sector: Industry
Competencies: Customer's ERP system
Business requirement: Due to restructuring, the company plans to outsource simple workflows in financial accounting.
Solutions developed: The dedicated employee of getsix performs basic activities for the client in the field of accounting. He receives invoices from our client as .pdf file and enters them into the accounting software provided us by the client. He then checks if the software recognizes the invoice, if the process went correctly, and if the data in the system is correct. If not, he corrects or adds the data to the system manually. Reporting and accounting to the local Swiss authorities remains the responsibility of the client. The getsix employee involved in this project communicates with the client in English.
Provision of an accounting system module for issuance of sales invoices - automatic posting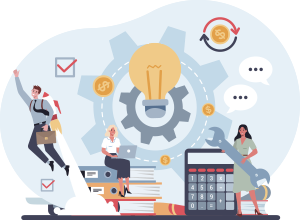 Client: International law firm with 3 locations in Poland and 14 worldwide.
Sector: Legal services
Competencies: Microsoft Dynamics NAV
Business requirement: Process improvement, reduction of accounting costs. The client was issuing many low value sales invoices which generated double work on both: the client's and our accountants' side.
Solutions developed: From an economic point of view, sending a large number of sales invoices to us involved double work on the client's and on our side. We provided the client with an interface to our accounting system with the possibility of issuing sales invoices directly in our system. We also trained their employee. Now sales invoices are posted automatically as soon as they are issued. Our accountants' effort has been reduced to entering purchasing invoices and generating the necessary reports./p>
Client's passive access to his data in our accounting system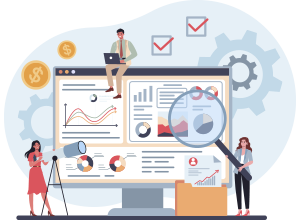 Client: Leading provider of comprehensive engineering services, tools and software solutions for product development process in various industries.
Sector: Design
Accounting Office: Wroclaw
Competencies: Microsoft Dynamics NAV
Business requirement: : Directly overseeing the flow of documentation and supervising the smoothness of the work performed.
Solutions developed: We provided our client's financial controlling department with passive access to our Microsoft Dynamics NAV system. It allows our client to follow the accounting process on an ongoing basis. He is able to download reports and statements.
Capturing accounting data from PDF documents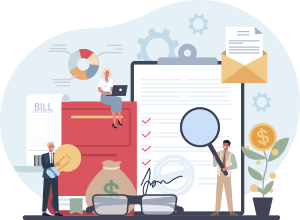 Client: Polish company involved in the recycling of glass packaging.
Sector: Industry
Competencies: Kofax, Dynamics NAV, API
Business requirement: To streamline the process of entering data into the accounting system, reducing costs and time associated with manual accounting work.
Solutions developed: A dedicated employee of our client tags accounting documents with a barcode accounting label, then scans them and sends them to a special mailbox at getsix. Thanks to the integration of Kofax TotalAgility and Kofax Capture, the processed information goes directly to the Dynamics NAV accounting system where it is further used by the accounting department. Thanks to this solution we avoid unnecessary transport of accounting documents from our client to us and back after the end of the accounting year. In addition, we significantly reduce the costs of accounting outsourcing, because a significant part of the basic work is carried out on the client's side. Our office provides tax advice, communication with authorities and, of course, the necessary reporting.
Staff outsourcing - data entry into client's bookkeeping system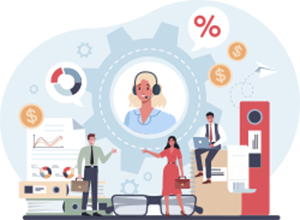 Client: German accounting firm
Sector: Outsourcing and consultancy in bookkeeping
Competencies: Customer's ERP system
Business requirement: Due to the rapid growth of the company and lack of suitable workforce in the local market, the company plans to outsource simple bookkeeping work.
Solutions developed: 3 employees hired in Polen to perform simple bookkeeping work for the client in Germany, on their IT system. Client provided our team, at the BPO centre in Wroclaw, access to their IT system. Our staff communicate with the client in German and English. The client's and our`s IT departments set up the necessary encrypted connections to allow secure remote work for the client.
---
Business Process Outsourcing in Poland - Facts
Business Process Outsourcing (BPO) is one of the fastest and most dynamically developing industries in Poland. BPO means transferring certain operations to a specizalized, external service provider. Outsourcing can be carried out in the country where the ordering company is located or abroad (offshoring or nearshoring). Subsidiaries performing outsourced activities for their own corporations are called SSCs (Shared Service Centres).
The main areas of activity of the BPO sector are:
accounting,
human resources and payroll,
finance,
IT,
customer service,
marketing,
administration,
logistics.
According to the Association of Business Service Leaders (ABSL) data for 2021, the total employment in business service centres (back-office) in Poland amounted to over 355 thousand employees, including 290.3 thousand people in foreign centres (82%) and 65 thousand people in Polish centres (18%). At the same time, the number of jobs in the business services sector should reach almost 377 thousand employees in the first quarter of 2022, which indicates an increase of 21.6 thousand compared to the first quarter of 2020.
Poland is the leader in Central and Eastern Europe (CEE), both in terms of employment in the industry and the number of shared services centres. The total number of BPO, SSC/GBS, IT and R&D service centres, performing back-office services in Poland, amounted in 2021 to 1 602. 67% of which belong to foreign investors. The thriving centres in Poland are Krakow, Warsaw and Wroclaw. Strong in terms of the number of back-office companies are also Gdansk, Lodz (Łódź), Katowice and Poznan.
In the report prepared by Hays Poland we read that: "Poland is no longer perceived as a market of low employment costs, and increasingly - through the prism of a high level of innovation. These innovations contribute to locating more decision-making positions in local back-offices, but also to further strengthening the position of Poland on the map of modern business services".
Learn more about Business Process Outsourcing (BPO):