Accounting for manufacturing and industrial companies - the experts from getsix® tell you what to look for
We are proficient in providing comprehensive accounting services for manufacturing companies on the Polish market. While providing bookkeeping services for industrial and manufacturing companies we keep in mind the specific needs of this sector, such as the need to account for depreciation of machinery and equipment or proper accounting for production losses.
Companies operating in the industry are obliged to keep accounts in a manner appropriate to their specificity and amount of generated income. The nature of production activity makes the accounting of such enterprises significantly different from accounting intended for service industries.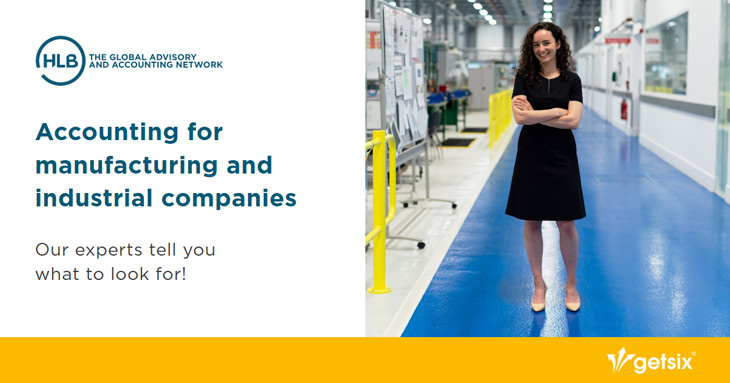 Thanks to our long experience in the field of accounting for industrial enterprises, we are aware that manufacturing companies have to deal with issues which are not encountered in other companies, such as calculating production costs - crucial for correct presentation of financial result - or calculating profitability of goods. When you add to this the specific issues occurring in individual production plants (excise duty, changeover of machines, etc.) you can get an overview of how complex problems the industrial sector has to cope with.
Reliable and meticulous bookkeeping is a key element of success in any industry, including manufacturing. For this reason, it is worth putting your company's finances in the hands of specialists. The decision to choose an accounting firm should always be supported by thorough verification of its offer as well as qualifications and experience of its specialists.
With its team of experts for accounting and cost accounting in manufacturing and industry, getsix® provides its customers not only with accounting and tax services, but also with a variety of financial analyses, for example verifying the profitability of goods and services.
This comprehensive accounting service for manufacturing companies enables their owners to reduce losses, improve plant efficiency and thus increase revenues. Outsourcing accounting services to qualified specialists from an accounting office will also give you the opportunity to focus on the development of your company - regardless of its size.
---
1. A wide range of services
Within the framework of comprehensive company service, our offices offer industrial plants:
accounting services,
human resources and payroll services,
production cost accounting,
product profitability analysis,
assistance in stocktaking of fixed assets,
production cost planning,
preparation and consolidation of financial statements.
---
2. ERP customer accounting services
Over the past few years, we have seen a rapid increase in the degree of automation in the industry. Companies are increasingly adopting advanced technologies such as cloud computing, artificial intelligence, and big data analytics in their operations.
The financial sphere of a manufacturing plant is typically integrated with logistics, warehousing, production, sales, and HR and payroll systems. The key to market success of manufacturing plants is effective planning and resource management - usually supported by integrated ERP systems. With their help, companies can more effectively manage supply chain flows, financial activities or human resources.
This means that effective accounting in a manufacturing company should be based on an ERP system already functioning in the company. When choosing an accounting office for a comprehensive service for a manufacturing plant, it is important to make sure that the accounting software the office uses is compatible with your ERP system. In getsix® we have experience with the most well-known systems - we provide the service on our software Microsoft Dynamics Navision (NAV) or on the system used by the customer.
---

/ Our Publications
Modern Accounting on Microsoft Dynamics 365 Business Central system
Customers have various options for cooperating with getsix® Group on accounting services, depending on their needs and legal requirements. If a company does not have its own financial and accounting system or has the need to change it, as one of the solutions available from getsix®, we suggest implementing the ERP accounting module Microsoft Dynamics 365 Business Central (formerly Microsoft Dynamics NAV).
3. The possibility of remote access to documents
In the era of digitization, when more and more companies decide to work in the home office mode - unlimited remote access to financial and accounting documentation or necessary summaries and reports has become particularly important.
When using remote services, special care should be taken to ensure that company data is properly secured. A great facilitation will also be the ability to independently organize documents in folders and the ease of use of the user panel.
In order to meet these expectations, as part of our services we provide you with the possibility of using the "Customer Extranet" customer portal which enables instant and completely remote exchange of documents and information between our customers and their accountants.
---
Production costing is based on determining the cost of producing a single piece of finished product and its components. Correct recording of these costs is a fundamental issue in financial accounting of manufacturing companies.
Due to the specificity of production processes, manufacturing cost accounting is adapted to the characteristics of the company and its production volume. It is advisable to use the support of an experienced accounting office which will ensure the reliability of data and help to optimise the cost of production batches.
If such a service is interesting for you our accountants are at your disposal. Please contact us.
5. Consulting for industry
It is extremely important not only the current accounting, preparation of reports or calculation of production costs, but also the choice of an appropriate form of business or method of taxation.
The help of specialized accountants will be invaluable, especially when it comes to estimating production profitability, as well as procedures related to entering the market and obtaining necessary permits (e.g. excise tax).
---
Our bookkeeping service for manufacturing and industrial companies - what sets us apart:
Individual customer care representative
Every client has a contact person, also with foreign language skills, and a team to support him.
getsix® is part of HLB International
an international network of accounting and consulting firms.
Customer extranet
You have the possibility to use our Customer Portal where we provide you with up-to-date data.
Special reports and analyses
Reliable data analysis is becoming more and more valuable every day. It can become the basis of your competitive advantage. That is why getsix® offers you, in addition to the standard reports available on the Customer Extranet, the possibility of preparing individual analyses for you (Big Data Analytics - Real-Time Analytics).
Reporting and communication in 3 languages
Reporting and communication available in Polish, German and English.
Well-educated and well-organized staff
The quality of our services has been confirmed by the TÜV NORD ISO 9001:2015 certificate.
Highest security standards
The security of your data is a priority for us, which is why our IT department annually renews the certificate of the Information Security Management System, in accordance with ISO/ IEC 2700.
Check out our accounting firms that provide accounting services for manufacturing companies and contact us.