Payroll processing services for the Polish workforce
Processing of Payroll Data on monthly basis;
Preparation of Payroll Statements for State Authorities;
Generating Pay Slips for our Clients Employees;
Preparation and filing of Employee and Corporate Tax Returns;
Preparation and filing of Employee and Corporate Social Security Declarations;
Efficient payroll processing services have become a necessity for every organisation in order to streamline payroll, optimise productivity and improve administration. getsix® ensures smooth payroll management services that can help achieve better resource management and save you the hassles and time-consuming tasks of payroll processing. getsix® is recognised as one of the leading payroll processing companies in Poland, with years of experience in handling corporate payroll services and the ability to tailor a solution to specifically suit the needs of any organisation.
Managing complete payroll processing in addition to your core business processes can become quite overwhelming and often result in payroll issues. Outsourcing payroll management services to getsix® can assure impeccable payroll processing, permit you to focus your time and energy on your core business functions.
---
getsix®

is committed to producing results with the highest accuracy and quality
getsix®, an expert payroll outsourcing company, has an experienced team with deep domain expertise, to deliver outstanding payroll services and differentiate you amongst your business competitors. getsix® is an ISO 9001 certified organisation, and places paramount importance towards quality and accuracy, while completing payroll processing. We not only save you from worrying about fines and penalties pertaining to late or incorrect filings, but also facilitate cost reductions in payroll management services.
As an ISO certified organisation, we have implemented numerous stringent security measures, which are adhered to at all times, while completing payroll services.
---
Our system for Payroll processing involves:
Receive time sheets;
Review authenticity of the time sheets;
Create paychecks weekly, bi-weekly & monthly;
Input federal withholdings & other deductions;
Print paychecks & generate payroll reports.
Our HR & Payroll Expert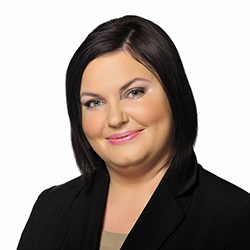 Barbara
Senior Manager Head of HR & Payroll Department

Polski
We provide comprehensive services regarding calculation of monthly salaries in compliance with the Labour Code, social insurance law and personal income tax regulations. Our services include calculation of fixed and variable elements of wages, e.g. bonuses, remuneration for overtime hours, holidays and remuneration for sick-leave. Within the scope of our services we maintain filing of employees' documentation in accordance with the Labour Code.
Additionally, we prepare social security, State Fund for the Rehabilitation of Disabled Persons (PFRON) and tax declarations. We can help and assist in the case of tax or social security audits.
The scope of our services also includes assistance in joiner and leaver processes, and termination of employment contracts.
Apart from the traditional method of providing, we can also render the service through on-line solutions due to our Cloud Solutions to the extent agreed with the client.
Within the scope of getsix® payroll services, in particular we offer the following services:
calculation of wages including benefits and deductions;
calculation of sickness and maternity benefits;
drawing up PIT (Personal Income Tax) and ZUS (Social Security Contribution) returns on behalf of the employer;
preparation of payroll documentation for the company and its employees;
preparation of reports for financial and management accounting purposes;
assistance in transferring payments of wages and social security contributions;
preparation and filing the annual information about income / tax returns (PIT-11, PIT-4R, PIT-40);
preparation and maintenance of employees files;
recording and supervision of length of holidays leaves;
monitoring validity of medical examinations and BHP (industrial safety regulations) trainings;
preparation of certificates of employment;
preparation and settlement of payroll for employees hired under civil law agreements;
preparation of the information on revenues from other sources (PIT-8C).
We offer Full Service HR & Payroll Solutions tailored to your business, complexity of payroll elements and reporting requirements. We are fast and flexible on the one hand and protect and secure payroll data to maintain confidentiality on the other.
---
Our publications on social security contributions in Poland