Accounting for the real estate industry - the experts from getsix® tell you what to look for
In today's fast-moving business environment, real estate companies are faced with a multitude of challenging issues - strategic planning, budgeting, improving efficiency, management, tax and statutory reporting.
A good lawyer, a competent accounting firm and a reliable tax consultant are indispensable in the real estate business. In getsix we provide a comprehensive service for investors in the real estate sector.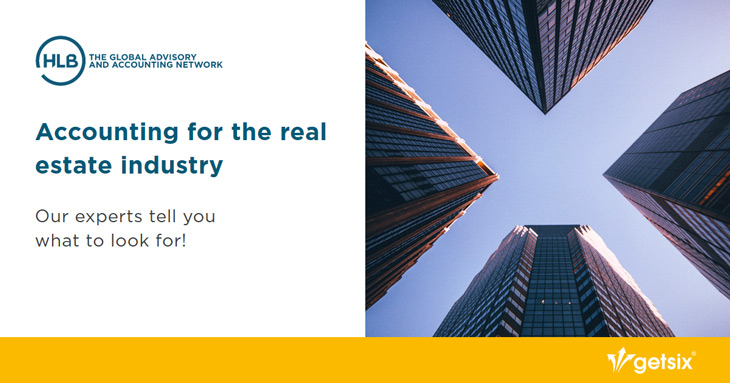 For a developer, investor or other company in the real estate and construction sectors, what counts most is efficient accounting services, rapid problem-solving and support for business processes. An element woven into all of these activities is accounting.
Our tax and legal firm getsix® Tax & Legal provides reliable accounting for real estate agencies at the highest level.
We provide a comprehensive service to all businesses looking for comprehensive solutions in this area. We make sure that real estate agents are able to deal properly with the tax authorities and that their accounts are kept in a reliable and accurate manner.
---
Accounting services for the real estate industry in Poland - our offer
At getsix® we have a team of Real Estate Specialists from all our offices in Poland who provide a comprehensive accounting service for real estate companies of the highest quality. Our Real Estate Specialists have a wealth of practical experience gained through active participation in numerous transactions. We provide accounting services for companies in various sectors of the real estate industry: shopping centers, office buildings, student residences and investment finance companies.
---
Out comprehensive accounting services for developers, property owners, investment funds and other real estate entities include:
Recordkeeping and bookkeeping.
Preparation of financial statements.
Calculation of covenants in the real estate company.
Preparation of real estate tax returns (PON) and applications for non-due taxes and contributions.
Recording and accounting for current real estate construction costs against budget.
Issuance of sales receipts, re-invoices, distribution of invoices to tenants.
Inventory of fixed assets.
---
Accounting for a real estate development company
Getsix® offers accounting and bookkeeping services for the real estate sector, both for completed properties and for properties under construction.
We have worked closely with numerous investors and developers over the years and (whether the assignments were for large office buildings or a small apartment rental business) have given each project our maximum attention.
If such a service is interesting for you our accountants are at your disposal. Please contact us.
Tax services and consulting
Companies operating in the real estate sector extremely often face tax problems related to changing laws and amendments to regulations. The experience of our Getsix team gained over the years translates into comprehensive tax services regardless of the complexity and scale of the problem.
We offer assistance in the area of VAT, corporate income tax, withholding Tax as well as draw up analyses, expert opinions, tax reviews and provide advice on tax risk management. The competence of our specialists is reflected in the numerous titles and awards that getsix regularly receives in industry and national competitions.
---

/ Our Publications
Modern Accounting on Microsoft Dynamics 365 Business Central system
Customers have various options for cooperating with getsix® Group on accounting services, depending on their needs and legal requirements. If a company does not have its own financial and accounting system or feels the need to change it, as one of the solutions available from getsix®, we suggest implementing the ERP accounting module Microsoft Dynamics 365 Business Central (formerly Microsoft Dynamics NAV).
Our Accounting service for real estate development
company - what sets us apart:
Individual customer service
Every customer has a direct contact person, also with foreign language skills, and a team of accountants, lawyers and tax consultants to support him.
getsix® is part of HLB International
HLB is an international network of consulting and auditing firms with whom we have been cooperating for many years and who assist our customers in the foreign aspects of their business.
Customer extranet
You have the opportunity to use our client portal, where we provide you with up-to-date data, reports and summaries.
Special reports and analyses
Reliable data analysis is becoming more and more important every day. They can become the basis for your competitive advantage. That's why getsix® offers you the possibility to create individual analyses (Big Data Analytics - Real-Time Analytics) in addition to the standard reports available on the customer extranet.
Reporting and communication in 3 languages
Reporting and communication available in Polish, German and English depending on customer preference.
Well-trained and well-organized professional staff.
The quality of our services has been certified by TÜV NORD ISO 9001:2015.
The highest security standards
The security of your data is a priority for us. That is why our IT department renews the Information Security Management System certificate in accordance with ISO/IEC 2700 every year.
Our offices providing accounting, tax and legal services are located in attractive locations throughout the country.
Check out our accounting firms that provide accounting services for manufacturing companies and contact us.