Document off-site scanning services – Scanning at getsix® Services
Document scanning presents enormous advantages for many organisations, as it allows for the storing and safeguarding of a huge amount of documents in a digital form. The process of scanning these documents is time consuming and requires the attention to detail of a document imaging specialist, to ensure that output is of high quality. getsix® Services provides document imaging services which will simplify this process and deliver a cost-effective and streamlined solution for your document scanning requirements.
Scanning at getsix® Services can take the form of a one-time project or an on-going process. With one-time projects, the customer provides the getsix® Services scan centres at our locations with the documents to be digitalised and receives the documents in the requested electronic form after scanning.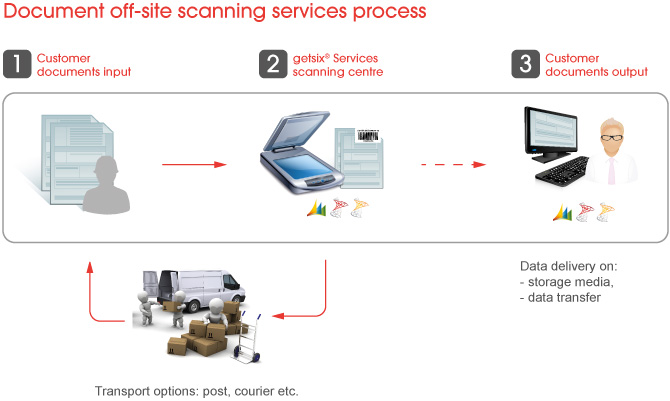 With scanning as an on-going process, getsix® Services enables customers to focus on their core business through targeted Business Process Outsourcing (BPO).
getsix® Services provides efficient digital scanning services, to drastically reduce the time and costs of completing this arduous task. Following scanning, we deliver digitised output to clients through a secure File Transfer Protocol (FTP), or via email, CD-R etc. according to the needs of the client.
Our scanning services include:
Document Scanning;
Invoice Scanning;
PDF Scanning.
Optimise your processes by outsourcing scanning to getsix® Services
Scanning and indexing services from getsix® Services allows organisations to greatly reduce the amount of paper they maintain and provides a more effective and convenient method for accessing documents and retrieving information. Whether it is instruction manuals, company accounts, lease agreements or any other type of data, our scanning professionals will collect, scan, digitise, index, organise, archive and deliver this information to you with an industry best turnaround time.
getsix® Services scanning and indexing process:
Content in any format is scanned;
This information is entered into indexed databases, or the client's pre-existing databases;
Information is organised and categorised;
Data is verified for complete output accuracy;
Once indexing is complete, clients receive organised, sorted information – augmenting usability, simplifying search, access and retrieval of business critical information and reducing the need for limitless paper documents.
By outsourcing this laborious task to getsix® Services, you will receive more time to concentrate your energy and resources on the more imperative aspects of your organisation. Our cost efficient scanning and digitisation services will simplify this back office duty and give your organisation a competitive advantage.
Streamlined scanning of bulk documents
A foremost bulk document scanning company, getsix® Services has the ability to scan documents of various sizes, formats and in differing conditions and convert them into a digital format. We also systematically label and index documents to enhance the convenience for our clients. Once our bulk scanning services convert documents into an electronic form, the time required to locate and retrieve documents is drastically reduced. With all documents digitally available online, more people will be able to work on and analyse these documents simultaneously, which will noticeably enhance the efficiency of your organisation.
getsix® Services has the capability to provide output on a number of different formats, including:
OCR (Optical Character Recognition) scanning
getsix® Services also have the capability to perform OCR scanning. OCR scanning converts your documents into an electronic format, which is completely editable and searchable. When your documents have been converted into a searchable format, you will be able to conveniently edit, search, update and store your information.
As a document scanning company, getsix® Services can complete this task with greater accuracy and swiftness as opposed to undertaking document scanning internally. getsix® Services has achieved ISO 27001 certification and has stringent security procedures in place at all levels of the organisation, to guarantee the safety of your valuable information.
Document scanning services process
Documents collected through our outsourced mailroom management services handling incoming mail and faxes;
Documents checked in using bar codes;
Records are prepared for scanning, staples and paperclips removed;
Bureau team digitise your paperwork;
Image quality is checked by two separate operators;
Digital indexing completed;
Documents output to required digital format by our IT team;
Clients can choose to have digital images output via CD, DVD, memory stick or on-line document management system;
Records can either be returned, stored in our secure archive facility or securely shredded.
Scanning into Sharepoint
getsix® Services scan, classify and automatically index your documents into SharePoint installed in your premises or to your hosted Microsoft Office 365 or SharePoint Online
Since the release of Microsoft SharePoint there has been a dramatic increase in the adoption of this technology by companies of all sizes. In the past, SharePoint has been seen mainly as an intranet solution for sharing MS Office documents between employees, however, the new features in SharePoint 2013 have moved it into the realm of document management and enterprise content management (ECM). Many companies are now realising that they also need to store and manage their paper-based documents within the same system.
This is when our service is required. Our scanning services is the answer by offering low-cost, easy to use solutions for scanning and indexing paper documents.
getsix® Service provides all the power and flexibility needed to capture and OCR all types of paper documents – forms, contracts, invoices, correspondence – and transfer them directly into SharePoint, fully indexed and in the correct document libraries. It can be run in unattended mode, automatically importing and indexing images that have been scanned to a network folder from MFPs or other network scanning devices. To allow users to validate or correct more critical data before exporting to SharePoint, it can also be run in attended mode.
PDF Scanning Services
Having your documents converted into PDF format is exceptionally convenient, as PDF is the most widely used electronic format used across all industries. getsix® Services delivers cost-effective PDF scanning, to assist you to seamlessly transfer a wide range of documents into PDF files. Once information is available in a PDF, it is far easier to access, search and distribute data.
At getsix® Services, we utilise state of the art scanning equipment and processing software, to provide PDF conversion of paramount quality and accuracy. Our dedicated quality assurance team also meticulously scrutinizes documents, prior to sending output back to the client, as a further guarantee of the quality of our PDF scanning services.
With our experience, getsix® Services is able to adapt our PDF scanning services to suit the unique needs of each client.
Our PDF scanning services includes:
PDF Searchable Image
In this PDF format, the document is displayed in its original form. OCR is also performed, to allow you to search documents and easily locate the information you require. Text presented in this format cannot be edited.
PDF Formatted Text and Graphics
Information is displayed directly from scanned paper documents. This file format is completely editable and is used widely when size is a factor, such as with web-based retrieval.
PDF Image Only
Scanned documents will be available in PDF format, but the documents will not be searchable or editable.
File accessibility
When document scanning is required, organisations looking to improve handling and productivity approach getsix® for comprehensive and convenient solutions. We can fulfil your needs with a fully text-searchable, indexed document system – Microsoft SharePoint – which we name our 'Customer Extranet' and we host for you on a SaaS basis. The access to your scanned documents is via a simple web-browser based system, arranged for however many you users you need to authorise. Each document has an audit trail log and can be version-controlled, shared, annotated or redacted where appropriate.
Storage space and costs
Archives take up a lot of physical room, which can be redeployed for more profitable purposes when digitising is complete. Entire floors of office space have been liberated by companies having their document files and archives digitised by getsix® Services. We can store your documents in our secure cloud-based Microsoft SharePoint repository where they can be accessed remotely via check-in/check-out functions from any location or in your Microsoft Office 365 or Microsoft SharePoint Online Environment hosted by Microsoft.
Apart from taking up a lot of room, archives can be expensive to maintain, especially if any special handling or climatic conditions are necessary for preservation. When you compare the ongoing yearly cost per square foot of your paper document storage with the likely project cost of a back-file scanning project with getsix® Services, you may conclude that the convenience and time saved more than justifies the budget.
Using the latest Kofax document scanning software, we scan high volumes of just about any document:
Sales orders, purchase orders and invoices
Reply cards, surveys and questionnaires
Application and registration forms, insurance claim forms
Deeds and conveyancing documentation
Time sheets, CVs and employee records
Cheques, tickets and receipts
Proof of delivery documents, bills of lading, goods received notes
Quality and efficiency
Thanks to several completed scanning projects, getsix® has a wealth of experience in the digitalisation and indexing of paper archives of different types and sizes. This foundation ensures customers to receive professional support in the definition of optimal scanning parameters (e.g. resolution, file formats, indexing, output formats) as well as the guarantee that scanning will be performed in an extremely efficient, high quality manner within the agreed project timeframe.
With the getsix® scanning services, customers benefit from secure and timely digitalisation of documents as well as a favourable cost-benefit ratio. Investment costs for infrastructures and personnel can be avoided; the costs are based on the actual quantity of documents. Qualified employees, ongoing quality controls with corresponding reporting and utilisation of cutting-edge infrastructure round off getsix® scanning services.
getsix® Services use the Kofax VirtualRescan (VRS) Technology:
When scanning documents, the quality of the scanned images is not always optimal: some images are vague, to light or to dark, crooked or almost unreadable. Thanks to Kofax VRS it is not necessary anymore to set up the scanner and rescan the documents over and over to obtain a good image.
Kofax VRS functions as an electronic check-point for scanned documents: while the images are being processed, VRS performs different controls on each image. VRS checks the images on clearness, contrast, sharpness and alignment. Each abnormality is immediately corrected by VRS, in order to produce the best readable images.
Furthermore, the file size of the produced images is smaller than without VRS.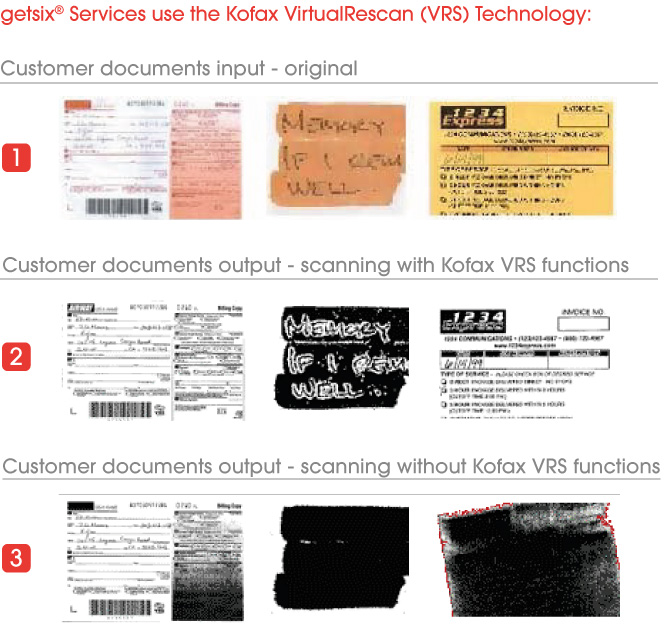 The benefits of VRS in a nutshell:
Perfect quality, often even better than the original;
Automatic rotation of pages;
Scanning of mixed batches of documents in colour and black-and-white is possible;
Smoothens the background and creates compact files;
Removes blank pages automatically.
Discover how getsix® Services can streamline your scanning requirements, please contact us today.
Benefits of Outsourcing Document Scanning Services to getsix®
With your documents in an electronic format, the time required to identify and extract information is greatly reduced – increasing the efficiency of your organisation;
At getsix® Services we provide multi-lingual support to our clientele and maintain consistent communication to ensure each client's needs are fully being catered to;
With state of the art infrastructure and a highly skilled team already in place, we can perform records scanning services at an incredibly low cost, while upholding the highest quality;
The latest Kofax document scanning software. With the getsix® document scanning service, organisations benefit from industry-leading Kofax document scanning software, enabling high-volume batch scanning of multi-page documents and forms. Kofax Capture software includes patented VRS technology which automates document image correction to significantly improve productivity and achieve excellent results in OCR and data extraction operations.