'e-Service SaaS Dynamics NAV'
Application Hosting (Software-as-a-Service) with Microsoft Dynamics NAV:
reduced total cost and cost transparency through user based pricing model;
lower capital expenditure and less working capital locked up in hard- and software;
global 24/7 access possibility to a multilingual ERP System of the enterprise class;
Lower customizing costs with ERP system adapted to Polish financial accounting;
Higher data safety standard supported by an external and independent data center;
Short implementation period instead of long-lasting investment phase and relief of the strain of the IT department.
SaaS Dynamics NAV e-Service
APPLICATION HOSTING (SOFTWARE-AS-A-SERVICE) WITH MICROSOFT DYNAMICS NAV
As an office holding ISO 9001:2015 certification, with premises in Wrocław, Poznan, Szczecin and Warsaw, together with our c. 50 staff in the accounts, human resources and payroll departments and IT Application Hosting (SaaS or DaaS), we have oriented ourselves towards the needs of German language enterprises active on the Polish market through daughter companies, branches or representative offices.
getsix® takes over the operation and maintenance of a Dynamics NAV environment belonging to you at fixed monthly costs. Our extensive IT infrastructure encompasses servers, networks and security and guarantees round-the-clock provision of access to critical data for the needs of business activity, including also a defined minimum availability for the entire system environment on the basis of an SLA (Service Level Agreement). The Dynamics NAV environment is made available via Citrix XEN App.
Benefit from reliable processes in sales, storage and accountancy, and in all other departments of an enterprise. Concentrate on your fundamental competences and entrust us with responsibility for the servicing of systems.
1. MICROSOFT DYNAMICS NAV IN BRIEF
In Germany alone over 14,000 medium-sized enterprises rely on business software from Microsoft.
Microsoft Dynamics NAV (Navision) is a complete solution, drawn up specially for the needs of medium-sized enterprises. A homogeneous ERP system throughout the enterprise can support every sphere of activity at your organisation, e.g. accounting, materials management or sales.
By way of Microsoft Dynamics NAV, Microsoft offers an efficient product at an attractive price solving precisely these problems of medium-sized enterprises. Because, in order to remain competitive over the longer term, care should be taken that staff are able to work more effectively. And this in turn requires integrated, flexible and easy-to-use software – such as Microsoft Dynamics NAV. It offers functions for control of business processes at medium-sized enterprises and provides the security of a standard solution proven on an international basis, but combined with the flexibility of individual solutions.
THE ADVANTAGES OF USING A MODERN ERP SYSTEM ARE MANY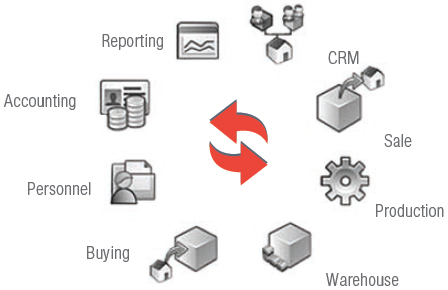 Entry of data once only;
The possibility of everyone working with the same data;
Introduction of changes also once only;
Electronic exchange of data between processes;
An excellent form of process control;
A notification function;
More rapid reports;
Immediate inspection of current activity etc.
This results in:
Enterprise processes fully integrated in a single system;
An integrated, reliable and flexible platform with open connectors;
A database with a high degree of security, which records access and indicates nonconformity;
The possibility of controlling beyond the business, as regards suppliers, customers and staff.
It is also possible to add other required functions. In summary, thanks to a homogeneous and complete system, work becomes decidedly more efficient and productive.
2. APPLICATION-HOSTING / SAAS (SOFTWARE-AS-A-SERVICE) – GENERAL INFORMATION
Software-as-a-Service (SaaS) is a model by which software is made available, with applications accessible to the user via the Internet. Our customers pay no fee for owning the software, but pay instead for its use under a form of rental.
We offer SaaS with Microsoft Dynamics NAV, which brings a great deal of potential and many advantages. These are:
LOWER COSTS
You do not need to purchase ERP software for your enterprise in Poland, e.g. for issuing outgoing invoices or running warehouses, because thanks to IT-Software Service it is possible to rent all of the necessary programs easily, via the Internet. You save not only on investment costs for licences or the upkeep of your own servers, but also on costs of installation and maintenance.
You pay solely for that which is actually necessary: in the case of the rental of licenses in the form of the SaaS model, you only pay fees for those licences which you actually use. Thanks to the Microsoft SPLA programme you incur only low initial costs, in that you cover only those licences which you used in a given month.
Professional software rented conveniently via the Internet;
Greater financial liquidity for other investments;
Free of costs of administration and management.
The price of rental in the form of the SaaS model includes Software Assurance (rights to upgrade), thanks to which within a total monthly fee you are offered the most recent versions of products within the SPLA programme; prices for Microsoft Dynamics NAV include the Enhancement Plan (formerly Maintenance)
MORE TIME
getsix® Saas Dynamics NAV eService will allow you to save not only on costs, but above all on time. getsix® takes over installation, maintenance and updating of your software and protection of the business data placed on external servers.
Automatic updating of programs, as well as antivirus and antispam software;
Daily protection of data and recovery in the event of loss;
Constant access thanks to continuous inspection and maintenance of the system;
Consultancy by way of the multilingual IT-Desk infoline.
GREATER FLEXIBILITY
Thanks to getsix® SaaS Dynamics NAV eService you will be able to enjoy the maximum freedom of movement in your work. By using a desktop computer or notebook with access to the Internet you will have access to your applications and data everywhere – in the office, on the road or at home.
Greater mobility thanks to the potential for access irrespective of place and time, from any computer and notebook with user identification;
Flexible organisation of work also at home and on business trips thanks to encrypted data transfer;
Convenient, intuitive operation.
In addition, getsix® SaaS Dynamics NAV eService is able to offer the desired flexibility for the needs of carrying out projects and dealing with temporary workstations, in that you use only those programs which your staff really need.
Easy addition and removal of users and programs;
Creation of individual user profiles and assignment of required programs according to a modular construction principle.
SaaS Dynamics NAV e-Service Factsheet
Complete inspection of user accounts;
Direct initiation of programs and applications at the portal.
Readily mentioned here also are such aspects of security as SSL encryption, firewalls, backup etc., given that in the case of many hosting offers these are disqualifying criteria.
3. APPLICATION HOSTING WITH CITRIX® XENAPP™
Citrix® XenApp™ is a solution used in making applications available and managing them. The transfer of applications to getsix® DataCenter and the central management of this software allows your users immediate and secure access to Windows® applications, irrespective of where they are to be found. This virtual availability of applications is optimally adjusted to each end device, the network and each location, and guarantees the user a high degree of comfort. You require only access to the Internet (see graphic).
getsix® Services is an official supplier of Citrix Service, as well as a registered Microsoft SPLA partner.
4. ADVANTAGES OF USING THE HOSTED APPLICATION MICROSOFT DYNAMICS NAV AND AVAILABILITY WITH getsix® VIA CITRIX® XENAPP™
Scenario: A German parent company in Germany with a Polish daughter company
getsix® is your partner in the field of accounting and taxes, making use of the finance module of the ERP system MS Dynamics NAV 2009 for entry at a Polish daughter company. At the same time we make available the sales and goods management modules as hosted applications.
A huge advantage here is the fact that getsix® adjusts these modules to Polish market conditions!
This has the following advantages and potential for application:
Besides the advantages of application hosting described earlier (costs, time and flexibility) and the benefits flowing from the use of a modern ERP system for the needs of a daughter company, this scenario offers numerous possibilities and potentials for saving on costs.
Individual system configuration for the sales module:
Our IT-Desk prepares the sales module according to your individual requirements, e.g. by adjusting outgoing invoices to your Corporate Design (logo etc.), while taking into consideration Polish articles on accounting.
You are thereby making use of a modern ERP system for issuing outgoing invoices with the benefit that every outgoing invoice will be entered in the system automatically. At the same time this forms a basis for the efficient management of amounts due, in that information demanded can be checked in the system immediately, e.g. income from sales.
Individual system configuration for the goods management module:
Depending on individual requirements as regards configuration of the system for managing goods, the ERP system is adapted by our IT-Desk, or possibly partner enterprises (Dynamics NAV Solution Partner).
You are therefore making use of a modern ERP system for organisation of goods management, with all of the benefits which result from this.
5. ADVANTAGES FOR PARTNERS IN THE COURSE OF CONDUCTING COMMERCIAL PROCESSES
For the parent company:
Direct and up-to-date, round-the-clock access to data relating to accounts, sales and goods management at the daughter company: for example, for the needs of controlling at the enterprise (multidimensional data analysis) or those of reporting (generation of reports in foreign languages in the form of a printout on any printer or in the form of any file, e.g. .csv, .rtf, .html or .pdf), it is always possible at headquarters to check lists of open items, allowing for the possible provision of support;
Assumption of individual tasks by the parent company: thanks to shared access to data the parent company is able without difficulty to assume individual tasks, e.g. the issue of outgoing invoices etc.;
Mobile access to data is possible anywhere in the world: access to data is possible regardless of time and place, e.g. in the course of a business trip, at home, in various parent company locations with division into spheres of activity etc.;
Use of a foreign language package: access to data and use of Dynamics NAV occurs, for example, in a German language version and includes the advantages associated with this (an English language package is also possible);
Integration with getsix® Reporting Portal eService: data are available immediately in the getsix® Online Reporting System Portal with 'live data'; initially defined reports placed there containing current data can be checked at any time, e.g. a list of open items, economic analyses (BWA) or BI analyses;
Protection against abuse of data and theft of knowledge at the daughter company.
For the Polish daughter company:
Less IT administration: through Application Outsourcing getsix® assumes full responsibility for the proper operation of the applications rented;
A reduced IT structure with regard to the amount of computer equipment and software: for work with the software at the enterprise the daughter company needs only a connection to the Internet; from a workstation or ThinClients staff have direct access to the getsix® server;
Systems adjusted to Polish accounting principles: we have already adjusted or adapted systems to Polish articles on accounting, as a result of which you do not incur additional adaptation costs;
Low IT-Customizing costs in the case of individual adaptation to customer needs: lower administrative expenditure on the implementation of the sales and materials management modules thanks to our Dynamics NAV Solution Partner;
An improved IT risk minimisation system: thanks to the software operation at our secure Datacenter you avoid risk (e.g. backup etc.);
Reduction of investment in IT: it is not necessary to invest in computer equipment and software in order, for example, to issue a sales invoice or guarantee the organisation of goods management;
Weaker binding of capital: thanks to the weaker binding of capital, resources are freed immediately for the fundamental goals of your daughter company;
Flexibility thanks to 'pay as you go': you incur costs only for the applications actually utilized and remain flexible thanks to appropriately selected rates for use (e.g. per user or per application); number of software users may be changed every month in the event of need;
Extremely rapid implementation: software is introduced in an extremely short time;
Mobile access: if mobile access is necessary, e.g. for a sales representative, it is possible to provide this without difficulty; given that the software connects with the getsix® server only via the Internet, information may be made available in any location;
Use of modern IT technologies: the possibility of decentralized access to applications ensures the use of current technologies and the availability of potential associated with them;
Data security and updating: security thanks to the operation of a professional data center; getsix® guarantees the upload of hotfixes and updates, data and systems protection and maintenance;
The availability of the IT-Help-Desk: in the event of questions related to IT you are able to make use of the assistance of getsix® experts.
The IT-Desk takes responsibility for support and will serve as a constant partner for dialogue, as well as being responsible for coordination of collaboration between your business and us.
In the event of further questions, we are at your disposal.