Contact for hybrid accounting:
What is hybrid accounting?
Hybrid bookkeeping consists in dividing work connected with accounting and documentation between a selected accounting office and the company owner. This solution means that the entrepreneur does not have to do his accounting himself, but at the same time does not outsource all his accounting services. In this model, the business owner can decide which activities he will perform himself and which will be the responsibility of the accounting office. The accounting office is assigned a specific area of activity depending on the needs of the business. It can take over the majority of tasks related to accounting for a given company or limit itself to providing advice, supervision and assistance in specific cases. Hybrid accounting saves time and reduces costs. At the same time, the entrepreneur can be sure that the bookkeeping will be done properly, as it is under constant control of a tax advisor and accountants with full bookkeeping qualifications. It is a solution which should be considered by every entrepreneur who wonders about the choice of the form of bookkeeping.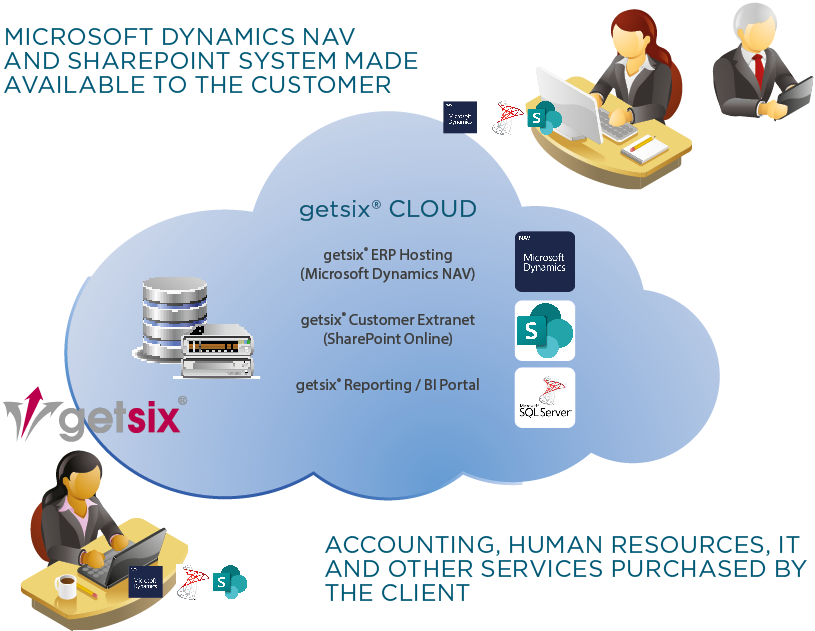 Many business owners face a dilemma: to create their own accounting department or to establish cooperation with an accounting office. These solutions have their advantages and disadvantages, which leads to the search for intermediate accounting models. Smaller companies most often use the services of a traditional accounting office. This solution requires collecting documents and then delivering them to the office during its opening hours. By outsourcing your bookkeeping to an accounting office, you no longer have to deal with issues such as taxation or monthly invoice reconciliation on your own. The disadvantage of this solution is the lack of permanent access to the necessary documents, which are kept in the accounting office. Another form of bookkeeping is online accounting, which has recently enjoyed growing interest. This solution seems to be much more convenient, but it requires knowledge of frequently changing tax law and the ability to use a platform with forms. In this model of accounting, the entrepreneur has to cope alone and there is no one to help him solve the problem or dispel existing doubts. However, there is a solution that combines a traditional accounting office with modern online accounting. This is hybrid bookkeeping, which is the latest bookkeeping model that has already gained many supporters.
---
Cooperation with our office starts with a meeting, during which we get to know the structure of the client's company, determine its needs, and propose hybrid solutions that can bring you the most benefits.
Meeting by MsTeams - determining client needs
Proposal of solutions tailored to your needs
Implementation of agreed solutions
Our IT Solutions Expert
Below are some examples of projects in which we have applied hybrid accounting solutions
Provision of an accounting system module for issuance of sales invoices - automatic posting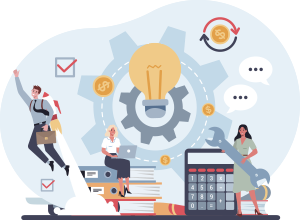 Client: International law firm with 3 locations in Poland and 14 worldwide.
Sector: Legal services
Competencies: Microsoft Dynamics NAV
Business requirement: Process improvement, reduction of accounting costs. The client was issuing many low value sales invoices which generated double work on both: the client's and our accountants' side.
Solutions developed: From an economic point of view, sending a large number of sales invoices to us involved double work on the client's and on our side. We provided the client with an interface to our accounting system with the possibility of issuing sales invoices directly in our system. We also trained their employee. Now sales invoices are posted automatically as soon as they are issued. Our accountants' effort has been reduced to entering purchasing invoices and generating the necessary reports./p>
Client's passive access to his data in our accounting system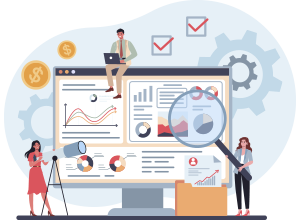 Client: Leading provider of comprehensive engineering services, tools and software solutions for product development process in various industries.
Sector: Design
Accounting Office: Wroclaw
Competencies: Microsoft Dynamics NAV
Business requirement: : Directly overseeing the flow of documentation and supervising the smoothness of the work performed.
Solutions developed: We provided our client's financial controlling department with passive access to our Microsoft Dynamics NAV system. It allows our client to follow the accounting process on an ongoing basis. He is able to download reports and statements.
Capturing accounting data from PDF documents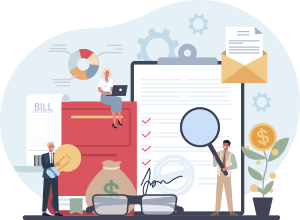 Client: Polish company involved in the recycling of glass packaging.
Sector: Industry
Competencies: Kofax, Dynamics NAV, API
Business requirement: To streamline the process of entering data into the accounting system, reducing costs and time associated with manual accounting work.
Solutions developed: A dedicated employee of our client tags accounting documents with a barcode accounting label, then scans them and sends them to a special mailbox at getsix. Thanks to the integration of Kofax TotalAgility and Kofax Capture, the processed information goes directly to the Dynamics NAV accounting system where it is further used by the accounting department. Thanks to this solution we avoid unnecessary transport of accounting documents from our client to us and back after the end of the accounting year. In addition, we significantly reduce the costs of accounting outsourcing, because a significant part of the basic work is carried out on the client's side. Our office provides tax advice, communication with authorities and, of course, the necessary reporting.
Hybrid accounting for international companies
For many enterprises, especially those with extensive international structure, efficient transfer and sharing of financial and accounting information between accountants, local managers and branches located in many countries, as well as between different levels of the organization, is a great challenge. Cloud based accounting solutions give managers and other participants in business processes constant access to business information in real time. Our hybrid services are designed to allow users to monitor all aspects of a company's finances, including purchases, sales and cash flow, tailored to their individual needs. The technology is constantly updated by our IT specialists so you can be assured that the system will remain efficient and available at all times.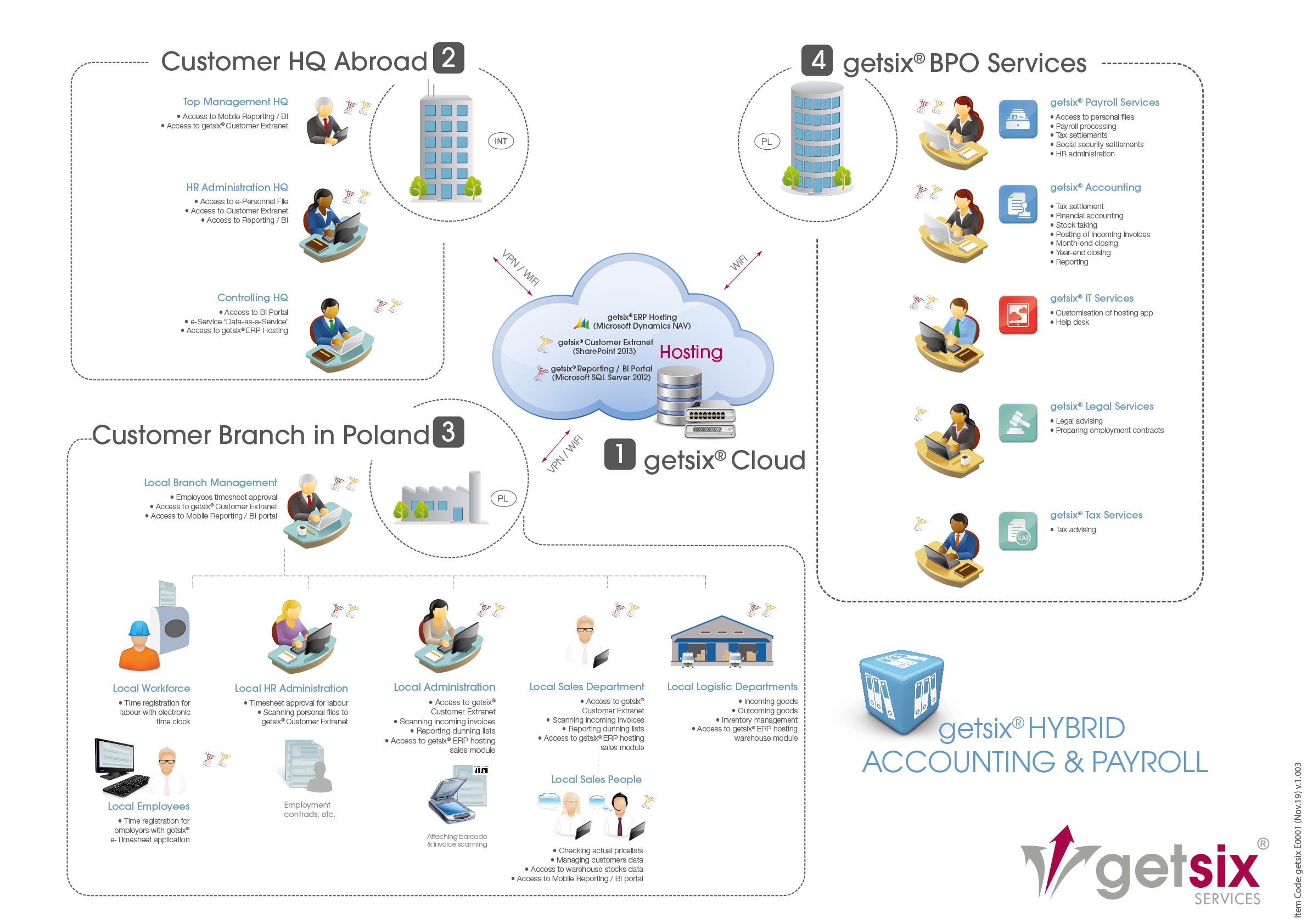 ---
Benefits of hybrid accounting
Cloud-based accounting systems save you time and money that would otherwise be spent updating and maintaining local systems and the time-consuming and inaccurate circulation of information through traditional methods. Too often, decision makers rely on outdated data and misleading assumptions about their business. Financial information stored in the cloud can help eliminate uncertainty by providing executives with always up-to-date reports on their business.
For more information on the benefits of hybrid accounting, please visit:
Our hybrid accounting services is a comprehensive cloud-based solution that helps you manage your business. It provides multi-tasking capabilities and effective control over expenses, revenue, invoices, etc. With its help, you can generate necessary reports at any time - suitable for your needs. Information stored in the cloud can be an indispensable source of knowledge not only for accountants or managers, but it can also be used by all levels of management.
If you are interested in the benefits of cloud accounting, feel free to contact us: