Contact us for accounting for lawyers and solicitors:
Accounting for lawyers and attorneys with getsix
We provide professional and comprehensive accounting, bookkeeping and tax advice for lawyers, solicitors and law firms.
If:
your company wants to open or already has a subsidiary in Poland,
you run a thriving law firm that serves Polish and foreign companies,
if you care about optimizing costs and accounting processes,
if you are not afraid of new technologies and expect easy access to analysis of your financial data,
then we are the ideal support and Your partner for accounting and tax consulting for your company.
Polish financial law, tax law and related accounting and bookkeeping services are dynamic areas, undergoing frequent changes. In addition, accounting for lawyers and solicitors has its own specificities and differs from accounting for other types of business. Therefore, it is highly recommended to delegate the handling of your accounting to trusted and specialized accounting firms such as getsix.
See how getsix solutions streamline accounting for a legal firm:
reduced time spent on invoicing,
reduced accounting costs,
easy reporting of unpaid receivables.
---

/ Our Publications
Modern Accounting on Microsoft Dynamics 365 Business Central system
Customers have various options for cooperating with getsix® Group on accounting services, depending on their needs and legal requirements. If a company does not have its own financial and accounting system or has the need to change it, as one of the solutions available from getsix®, we suggest implementing the ERP accounting module Microsoft Dynamics 365 Business Central (formerly Microsoft Dynamics NAV).
Accounting for lawyers and solicitors - what sets us apart?
Personal customer support
Every customer has a direct contact person, also with foreign language skills, and an accounting and legal team to support them.
getsix® is part of HLB
HLB is an international network of tax and accounting firms. It gives us access to a worldwide network of accounting and tax specialists. Wherever you run your business, you can count on the professional support of your consultant in Poland.
Client extranet
You will have the opportunity to use our client portal, where we will provide you with up-to-date data, financial statements and other reports and documents agreed with you.
Special reports and analysis
Reliable data analysis is becoming increasingly important. They can become the basis for your competitive advantage. That is why getsix® offers you the possibility to create individual analyses (Big Data Analytics - Real-Time Analytics) in addition to the standard reports available on the extranet.
Well-trained and well-organized professional staff
The quality of our services has been confirmed by the TÜV NORD ISO 9001:2015 certificate. Our accountants and podtk consultants are regularly trained on the latest tax and legal changes.
Highest security standards
The security of your data is our priority. That is why every year our IT department renews the certificate of the information security management system according to ISO/IEC 2700.
---
Polish accounting for lawyers and solicitors - our solutions for the legal industry
---
Accounting for lawyers and advocates - accounting and tax obligations in Poland
Legal services require taxation in the form of VAT, while lawyers and advocates cannot benefit from entity exemptions or taxation on a tax card or lump sum basis. Instead, they may settle according to the tax scale or as a flat tax. For those lawyers and attorneys at law for whom the flat-rate tax is more favourable, we will draw up and submit an appropriate application to the tax office.
Law firms and solicitors' offices must also remember to properly invoice VAT for legal services. Common mistakes in this regard are an incorrect date of sale on the invoice, an incorrect description of the service or an incorrect file format for invoices issued electronically.
Lawyers and solicitors should also properly account for the costs of a legal traineeship - if incurred before the start of the business, they cannot be deducted as tax deductible costs. On the other hand, compulsory third party liability insurance and contributions to professional organisations, if membership is also compulsory, are such costs.
Accounting for lawyers and solicitors also covers the issues of how to properly book and account for additional services and costs incurred in the provision of legal services to clients, e.g. court fees, dispatch of letters, travel to court and business travel expenses.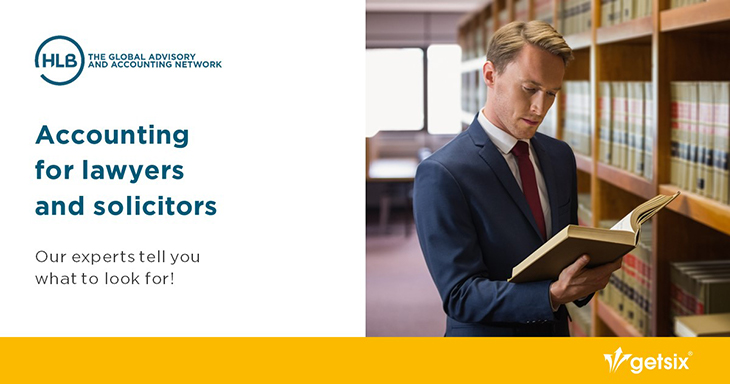 Take advantage of our many years of experience, professional advice and modern tools in the field of accounting for lawyers, solicitors and law firms!