Poland, officially Rzeczpospolita Polska, is a democratic state in Central Europe. Capital and largest city of the country is Warsaw. With an area of 312,696 km², Poland is the ninth largest country in Europe and ranks 69th among the world's largest countries. Poland borders Russia and Lithuania to the north, Belarus and Ukraine to the east, Slovakia and the Czech Republic to the south and Germany to the west. Geographically Poland is a lowland country. Catholics form the dominant religion of the country.
Since 1 May 2004, Poland is a Member State of the European Union. The country is also a member of the UN, OECD, NATO and the OSCE.
---
With a population of 38.2 million, Poland is the fifth largest country in Europe and 38th in the world. Average population density is 122 residents per square kilometer, although this is strongly diversified between the relatively densely populated south and the north. There are 22.9 million people (60.9%) living in 964 cities and 15.3 million (39.1%) living in rural areas. Poland is, from the point of view of ethnicity, a rather homogeneous country. National minorities, of which there are nine recognized The largest ethnic minorities are Ukrainian, German, Belarusian, and Roma. About 21 million people of Polish descent live abroad, of which more than 10 million have settled in the United States.
---
Twenty-six cities have populations of more than 100,000 people, four of which have populations of more than 500,000. The largest cities are: Warsaw (1.79 million inhabitants), Kraków (781,000), Łódź (677,000), Wrocław (644,000), Poznań (534,000), Gdańsk (472,000), Szczecin (401,000), Bydgoszcz (347,000), Lublin (340,000) and Białystok (298,000).
---
The official language is Polish, which belongs to a western branch of the Slavic languages. It is used by almost 100% of society, with Ukrainian, German, Lithuanian and Belorussian being minority languages. Numerous dialects exist, reflecting in part German and Ukrainian influences. These are used above all by elderly people. The Polish language is written in the Latin alphabet; it possesses more letters and special marks than the German alphabet.
---
Around 84% of Poles are Roman Catholic, and the Roman Catholic Church, with 41 dioceses and over 10,000 parishes, exerts a significant influence on society. In 1978 the Polish cardinal Karol Wojtyła was elected as the Pope and took the name of John Paul II. Also functioning in Poland are c. 35 other churches and religious communities, with approximately 900,000 members in total. Seven of these churches belong to the Polish Ecumenical Council. The largest of these communities is the Orthodox Church with over 500,000 adherents, Jehovah's Witnesses with over 100,000 preachers, and the Evangelical Augsburg Church with tens of thousands of believers. Under communist government the Roman Catholic Church held great political power, being a center for the opposition, particularly in the 1970s and 1980s.
---
January 1 - New Year's Day ,
January 6 - Epiphany,
Easter,
Easter Monday,
May 1 - Labour Day,
May 3 - Constitution Day,
Corpus Christi,
August 15 - Assumption of Mary,
November 1 - All Saints' Day,
November 11 - Independence Day ,
December 25 - Christmas Day,
December 26 - Christmas Day.
---
Poland in numbers
Poland is a very interesting place for foreign investors. Country's main advantages are: large number of inhabitants (about 40 millions), diversified economy in terms of sectors, ambitious employees and easy access to markets of Eastern and Western Europe.
Polish economy may be briefly depicted as:
robust and resilient to external shocks, mainly due to the country's significant internal market and diversified export structure;
offering safe environment for economic activity and long-term planning (due to constant GDP growth);
having very low risk of a financial crisis (public sector debt amounts to 54.2% GDP while the EU average equals 90.1% GDP);
offering broad range of investment possibilities resulting from modernization of infrastructure and implementing modern technologies in corporations;
driven by a large number of agile small and medium enterprises (over 2 000 000 entities).
Business in Poland
Why do business in Poland? It is Europe's sixth-biggest economy. As estimated by the World Bank, activity in the Polish economy, as measured by gross domestic product (GDP), will increase by 3.9 percent in 2022, after 5.7 percent in 2021. Poland is an attractive market in Europe for locating investments and conducting business due to its strategic location, lower operating costs and well-educated, experienced and foreign-language speaking workforce. The Polish economy is also distinguished from other European countries by its exceptional growth dynamics and stability.
Location
Poland's location offers numerous advantages for business. The country is located at the very heart of Europe. It borders on both the EU member states (Germany, the Czech Republic, Slovakia and Lithuania) and the Eastern European countries Ukraine, Belarus and Russia. This means access to approximately 250 million consumers within a 1000km radius. East-west and north-south transit routes cross within Poland's territory. The continuously developing network of roads and motorways facilitates logistics. The proximity of both EU and Eastern European selling markets promotes exports of goods. Numerous airports and seaports allow the transport of goods all over the world.
Educated employees
Polish education system produces specialists with expertise in many areas. Approximately 1.2 million people study in Poland – this is almost half of the population of student age (19 to 24). Annually, about 300,000 graduates graduate from about 350 higher education institutions nationwide, including about 40 universities.
Well-educated Polish graduates are sought-after and appreciated employees who find employment in international companies and institutions. They have a very good command of foreign languages – the majority of them have mastered English. Many learn other foreign languages too – mainly German, Spanish, French and Russian.
More and more students choose to study at technical universities, which educate engineers, IT specialists and scientists – graduates of sciences are sought after and appreciated not only in the national but also in the European labour market.
Developing economy
Poland now has the sixth largest economy in the European Union and one of the fastest growing in Central Europe. At the end of 2021, Poland's GDP reached approximately $660 billion.
World class companies often choose Poland as an investment destination in Europe. The number of new investment projects is constantly growing, especially in the high-tech, IT, automotive, R&D, electronics and chemical sectors. Poland remains one of the most attractive directions for the inflow of foreign investments. In 2021, foreign companies have declared investments worth over 11 billion PLN and the creation of over 6 thousand new jobs.
The current outlook for the Polish economy is difficult to assess due to the war in Ukraine. It is likely that Polish GDP growth will slow down to around 4%, while inflation and high interest rates will slow down the economy.
Selling market
With a population of approximately 40 million, Poland is the fifth largest member of the European Union and 38th largest in the world. This makes it a very large market for goods and services.
Outsourcing Industry in Poland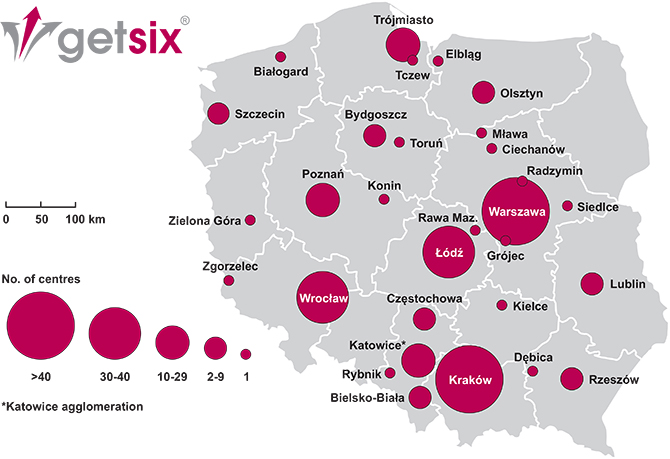 According to reports by the Association of Business Service Leaders, the outsourcing industry has recently grown by approx. 10% and currently creates approx. 350 000 jobs in Poland.
The leading area is the IT industry (28% of those employed in outsourcing), followed by commercial and professional services, e.g. accounting and legal advisory (27%). The third place was taken by BFSI sector (banking, financial services and insurance) - 14%. The value of commercial services export from Poland is estimated at around 20 billion USD, with the outsourcing sector accounting for about 30% of this amount. All the data indicate an increasing interest of business in advisory services which are performed under outsourcing.
Offshoring of services (a process that involves the production of services in a territory other than the country of origin) is one of the key features of the globalisation process. Among the most important advantages gained by countries capturing services subjected to offshoring, one can count i.e. increasing export incomes, creating new jobs, higher salaries and improving qualifications of the labour force.
Poland is the second largest market of business services sector in the world. With over 500 centers (32.7% share in the total number of centers), employing about 65 thousand people (18.3% of total employment), it is second only to the USA and ahead of Great Britain, Scandinavia, France, Germany and Switzerland.
The companies form the business services sector (about 500 in Poland) are reliable providers of world-class services for international corporations. Wrocław takes the first place in the general subjective ranking of attractiveness of centers, followed by Warsaw (second place) and Tricity and Poznań (third place).
The absolute majority of employees of business services sector in Poland (over 90%) completed university education. As many as nearly 50% of the employees are between the ages of 27-34. The next age group is employees aged 35-44, who account for 28.2%. People under 26 years of age make up 16% of the workforce.
One of the key assets of the outsourcing industry in Poland is the dynamically developing office space market. The total available office space is estimated at 13.5 million sq m, making Poland the leader in the CEE region and one of the world leaders. This can be proved by the constantly increasing confidence of developers, investors and tenants. Another 1 million sq.m. of such space is under construction.
Warsaw offers the largest amount of office space - more than 50% of Polish modern office stock is located in the capital - 7.1 million sq.m. It is followed by Cracow (nearly 2 million sq. m), Wrocław (over 1.2 million sq. m) and Trójmiasto (923.5 thousand sq. m). At the construction stage in Poland there is another several hundred thousand square meters of office space, of which in Warsaw alone there is about 374 thousand square meters of offices.
The largest supply of modern office space in the 15 countries of Central and Eastern Europe was recorded in the capitals of Poland, Hungary and the Czech Republic: Warsaw, Budapest and Prague.
Warsaw, with 6 million square meters of modern office space, is the largest office market in the CEE region. Other capitals offer around 10 million sqm. Other capitals offer around 10 million sq m in total (Prague - 7 million sq m, Budapest - 3.7 million sq m and Bucharest - 2.5 million sq m).
Warsaw, Prague, Budapest and Bucharest are the main office markets in Central and Eastern Europe with over 15 million sqm of office space. Warsaw has a 37% share, followed by Budapest and Prague (24% each) and Bucharest (15%).