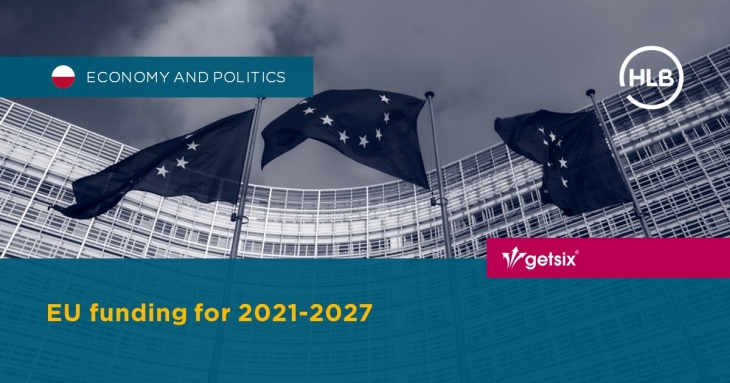 EUR 76 bln from EU funds for Poland in 2021-2027
In the years 2021-2027, Poland will receive EUR 76 bln from the European Union budget – EUR 72.2 bln from cohesion policy and EUR 3.8 bln from the Equitable Transition Fund. These funds will be used for investments in the areas of infrastructure, environmental protection, energy, digitization, entrepreneurship, innovation and education and social affairs. On which national and regional programmes exactly will Poland allocate EU funds?
The Cohesion Policy 2021-2027 includes funds: European Regional Development Fund (ERDF – to strengthen economic and social cohesion), Cohesion Fund (CF – to reduce economic and social disparities and promote sustainable development), European Social Fund+ (ESF+ – to respond to labour market challenges) and Fair Transition Fund (FST – to mitigate the social and economic impacts of the energy transition). The European Maritime and Fisheries Fund (EMFF – to support coastal communities) will cover the Common Fisheries Policy.
---
New national programs
As in the previous EU financial perspective (2014-2020), the new one will allocate around 60% of cohesion policy funds to programmes implemented at national level, while 40% will go to regional programmes.
The distribution of funds to national programmes is similar to the 2014-2020 period. Therefore, cohesion policy funds will be invested, among others, in increasing human capital, infrastructure development and environmental protection, building digital competences and supporting Eastern Poland.
Division of funds into national programs: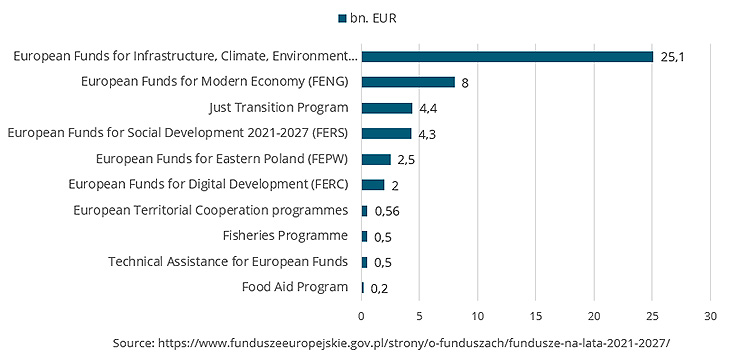 European Funds for Infrastructure, Climate, Environment (FEnIKS) – €25.1 billion;
European Funds for Modern Economy (FENG) – 8 billion;
European Funds for Social Development 2021-2027 (FERS) – 4.3 billion;
European Funds for Digital Development (FERC) – 2 billion;
European Funds for Eastern Poland (FEPW) – 2.5 billion;
Technical Assistance for European Funds – 0.5 billion;
Just Transition Program – 4.4 billion;
Food Aid Program – 0.2 billion
Fisheries Programme – 0.5 billion;
European Territorial Cooperation programmes – 0.56bn.
Most for Silesia, least for Lubuskie
Funds for regional programs were also divided. The biggest share, i.e. over 2 billion EUR, will be allocated to the Silesian voivodship, the smallest – to the Opole voivodship – 736 million EUR. Lower Silesia will receive nearly EUR 900 million: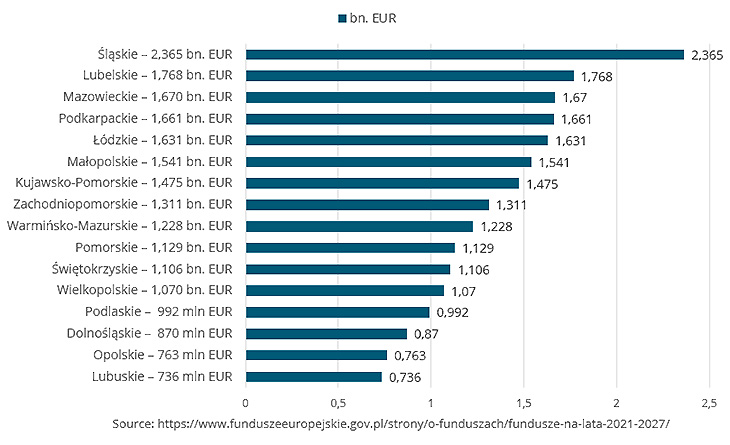 Dolnośląskie – EUR 870 million;
Kujawsko-Pomorskie – 1.475 billion;
Lubelskie – 1.768 billion;
Lubuskie – 736 mln;
Łódzkie – 1.631 billion;
Małopolskie – 1.541 billion
Mazowieckie – 1.67 billion;
Opolskie – 763 million;
Podkarpackie – 1.661 billion;
Podlaskie – 992 mln;
Pomorskie – 1.129 billion;
Silesia – 2.365 billion;
Świętokrzyskie – 1.106 billion;
Warmia and Mazury – 1.228 billion;
Wielkopolskie – 1.070 bn;
Zachodniopomorskie – 1.311 billion.
The money for regional programs was divided according to an algorithm based on objective criteria, such as population and GDP per capita.
If you have any questions regarding this topic or if you are in need for any additional information – please do not hesitate to contact us:
CUSTOMER RELATIONSHIPS DEPARTMENT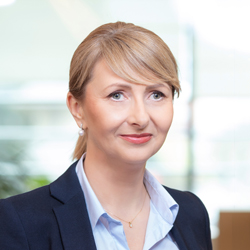 Elżbieta Naron
Head of Customer Relationships
Department / Senior Manager
getsix® Group



***
This circular is non-binding information and serves for general information purposes. The information provided does not constitute legal, tax or management advice and does not replace individual advice. Despite careful processing, all information in this circular is provided without any guarantee for the accuracy, up-to-date nature or completeness of the information. The information in this circular is not suitable as the sole basis for action and cannot replace actual advice in individual cases. The liability of the authors or

getsix®

are excluded. We kindly ask you to contact us directly for a binding consultation if required. The content of this circular is the intellectual property of

getsix®

or its partner companies and is protected by copyright. Users of this information may download, print and copy the contents of the circular exclusively for their own purposes.