Welcome!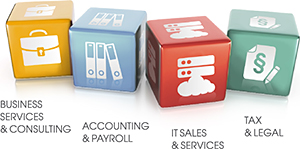 Nowadays, it is crucial to have a reliable partner at your side, a partner you can trust. The law provisions are amended nearly every day, and get more and more complicated. Both the tax and the economic possibilities are becoming more complicated, which means less clear and transparent for entrepreneurs.
For rendering services to our customer, we will allocate one highly skilled individual from our team. This person will be your adviser and will always be available to assist you whenever required. Thanks to inner testing and external training, our employees are always up to date within the field of law provisions.
We choose various types of rendering services, as well as different forms of consulting; moreover, we will support you with administrating your company, so that you can spend more time focusing on your core activities.
If our customer requires, all services can be rendered in either English or German language. This enables our foreign customers, or their mother-companies speaking English or German to dispel any doubts related to their businesses in Poland. All the services are provided by very professional staff and with the utmost care.
Our permanent customers are Polish companies, but also international entrepreneurs, in particular from Germany and Anglo-Saxon countries. We look forward to your interest in getsix® and correspondence will always be answered timely and attentively.
Our strong advantages
Our e-Services
Live Data Access

Safe (password guarded) and user friendly, direct online access to business information right from the clients workplace.

Please read more – Reporting Portal » Please read more – SSRS » Fact Sheet »

24/7 Online Portal / Customer Extranet

Monthly reports, Profit & Loss Statements, Balance Sheets, Management Analysis and other reports are available in bi- or trilingual versions.

Cloud Solutions

We book on the system MS Dynamics NAV 2009; You can share the modules (warehouse, sales and others) adapted to your requirements with the assistance of our solutions for application hosting.

Remote Accounting Services

Entire Bookkeeping is simply adjusted to your company system (e.g. SAP), all entries are performed on your IT infrastructure.

Mobile Reporting

getsix® Mobile Reporting makes available your performance information on your iPhone and iPad. Users can display detailed real-time reports i.e. Open Items Lists, Income Statements, as well as dashboards and can forward them i.e. directly as a PDF file. As a result, getsix® can improve decision-making, by enabling users to have instant access to their customised business data 24/7.

Mobile Extranet

getsix® understands that expectations have changed. Business now requires their latest information to make quick and accurate decisions on the move. getsix® Customer Extranet provides this by giving your company a secure, robust and easy-to-use solution for accessing, viewing, editing and syncing your business information on your iPhone and iPad 24/7.
Company Profile
Your trusted and reliable partner in Poland – getsix®, as an experienced and strong business partner, offers a broad range of cross-linked economic services for foreign investments in Poland. The service of our client will always stay the focal point of all the actions performed by getsix®.
Please click here to download our Company Profile:
Invest in Poland 2016
Societies and taxes (with amendments from 01 January 2016 including 01 July 2016)
Please click here to download our Invest in Poland:
Last modified: March 16, 2017