Doing Business in Germany – PAIH supports expansion to the German market
The economic co-operation between Poland and Germany has long traditions. Germany being our western neighbour has been on the list of our most essential trading partners for many years – advised Polish Invest & Trade Agency (PAIH) President Tomasz Pisula, while he was opening the seminar 'Doing Business in Germany – Opportunities Through Innovation' organised by PAIH, in co-operation with Germany Trade & Invest, along with Bank Polski PKO BP, with the guest of honour being Mr Rolf Nikel, the Ambassador of Germany.
"Thanks to that fruitful, bilateral exchange and mutual education of our business about the practical aspects of foreign expansion, specific goods and services as a result of Polish dynamic entrepreneurship are well-known all over the world, reaching even the furthermost corners" – said Pisula. "Although, we can always do more and do better, on what we really count, and strategic meetings such as that today are actually devoted to" – he added.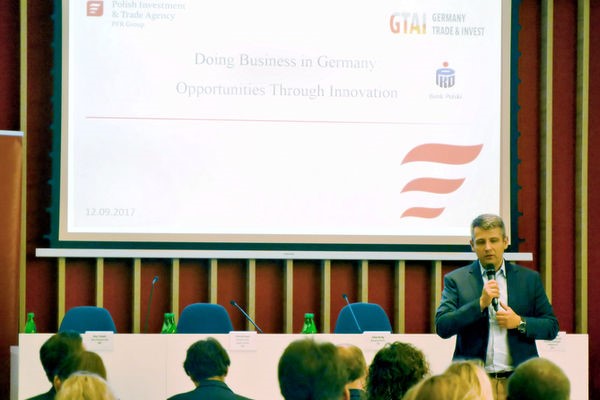 Mr Tomasz Pisula (PAIH President)
"The Polish economy has been thriving recently. It is shown by the main macroeconomic indicators. Poland is currently the sixth strongest economy in the European Union. Dynamics, which we all observe nowadays, also finds its clear and measurable resonance in Polish-German economic relations. Last year, the balance of trade between our countries exceeded 100 billion, advanced technologies and skills were transferred, 300 thousands new job places were created" quoted the ambassador of Germany. Adding, "Such brands as Solaris or Nowy Styl, successfully operating on the German market, underline the strength and potential of Polish innovative thought". The ambassador also noted that the Polish-German Chamber of Commerce and Industry is an accessible partner in Poland, offering knowledgeable and comprehensive support, thus he encouraged the Polish business to contact.
For the duration of the seminar, experts from Germany Trade and Invest presented the model of assisting foreign investors in Germany, which has a rich repository of funding instruments. At present, the agency has 50 offices located on almost every continent. The German market is predominantly absorbent and attractive for the mechanical engineering, robotics and automation sectors, according to the data quotable, as a result of the beginning of so-called 'Industrie 4.0' – the fourth machine revolution, which, in reality, means full computerisation of manufacturing processes. Statistics show that the main concentration of Polish investment is in the North Rhine-Westphalia. Besides Northern Italy, Germany has dominated Europe in the aspect of foreign investment in the engineering sector, being the largest manufacturer of high-tech machinery and equipment, right behind China and the United States – advised Claudia Grüne, Machinery and Equipment Division Manager GTAI.
(Source: www.paih.gov.pl)
To find out more information please visit getsix.eu