getsix® certification process for ISO/IEC 27001:2013
getsix® as a leading Full Service Finance & Accounting solutions provider, would like to advise you that we have started the certification process for ISO/IEC 27001:2013 the official title being 'Information Technology – Security techniques – Information Security Management System – Requirements' or (ISMS).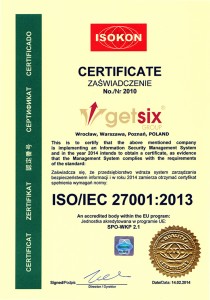 The main principle behind ISMS allow getsix®s to design, implement and maintain a coherent set of policies, processes and systems to manage risks to our information assets, with a significant new section on outsourcing, thus further enabling getsix® to maintain our excellent levels of information security.
getsix® feel that adding to our ISO 9001:2008 certification is a very important and significant process. getsix® will deliver further 'peace of mind' for our clients and potential clients when delivering our first-class services, in an every changing world.
The certification process will be completed in the middle of July 2014, when getsix® will be presented with a certificate from TÜV Rheinland.