getsix® partner lecture at The University of Poznan on "The bill as evidence of accounting"
On 21st November, 2013 Mr. Roy Heynlein, a partner in the company getsix®, held a lecture on 'The bill as evidence of accounting' to students of the Law Faculty of the University of Poznan. The lecture and the subsequent discussions were held in the language of German. The aim of the event was to show potential lawyers practical case examples from the daily business world of a shared service company, and to make different perspectives of legal topics more familiar.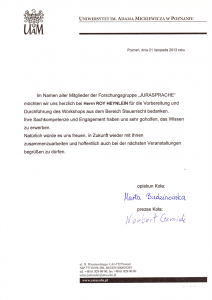 For those working as Polish foreign business people; statutory provisions of the Sales Tax Act or the Corporate Income Tax Act? What differences are there?, especially compared to the German Value Added Tax Act, and as a German businessperson understanding the Polish legal provisions of the VAT Act, if it is for the first time dealing with it?