Upgraded getsix® Extranet – new improved functionalities
We are happy to inform you that we have implemented a new version of our client portal getsix® Extranet. The new architecture is based on the integration with Microsoft Sharepoint and Microsoft Teams. It will allow for even more efficient information exchange and enable you to use additional functionalities.
The getsix® Extranet is a free platform available to all our clients in the areas of accounting, HR and payroll, virtual office and other services. It enables fast, secure and completely remote exchange of business documents (reports, financial statements, payroll, etc.) between us as an accounting firm and our clients.
By moving the getsix® Extranet system to the new Microsoft Sharepoint platform, our clients have the possibility to use a faster, more secure and more efficient document management system in the cloud.
---
Benefits of using the getsix® Extranet platform
In addition to the accounting, HR and payroll documents or reports provided by our accounting office, the customer portal also includes tools to support daily work tasks.
Please find below some highlights:
Quick access to documents and reports in one place – regardless of whether your employee who manages accounting or payroll records in your firm is on vacation, sick leave or no longer works for you – you still have full access to all documents. You are not limited by the need to access the employee's work e-mail box.
Ability to grant specific users access to specific areas – each of your employees can have customized user rights that allow them to access selected libraries of documents.
Security of stored and processed business data – data transfer through the Extranet portal within the Microsoft Sharepoint service guarantees a high level of security of your financial and personal information, which is not provided by the exchange of paper documents or communication via e-mail.
Logging in with your own e-mail address – You do not have to create and remember another login. You can log in to getsix® Extranet using the e-mail address that you use on a daily basis.
Analysis and data visualization at your fingertips – Built-in Power BI tools create clear and transparent reports and dashboards in real-time based on your company data. You can also order additional business intelligence reports – tailored to your individual needs and expectations.
Access on mobile devices – both Teams and SharePoint are available as mobile applications. You can access getsix® Extranet from any device.
Remote access to data – the getsix® Extranet platform is accessible from all popular web browsers and mobile devices.
Full integration with Microsoft Teams – not only can you access reports, files and folders directly from Microsoft Teams, but you can also contact your accountants and HR via Microsoft Teams using the chat functionalities.
Automatic e-mail notifications – you can set up notifications about the appearance of new documents in selected folders. The application also allows you to set the frequency of notifications.
---
Why is it worth registering on the getsix® Extranet platform?
Delivery of documents and information from clients to our accounting firm and providing of e.g. monthly reports by us via the getsix® Extranet platform ensures the security of business and personal data. The transmission of data to the platform takes place via a secure SSL connection, which is also typical for such services as electronic banking.
Through an individual account created in this system, clients of our accounting office who use our accounting, payroll and virtual office services have 24/7 access to their data, as well as to messages and news updated regularly by our employees. 
This enables a regular exchange of information between our accountants, HR and other specialists and our clients. The getsix® Extranet platform enables full control over the stored data, both on the part of our accounting firm and our clients. Thanks to this, communication between our employees and the companies they serve is faster, more efficient and more secure than if it were done by means of traditional e-mail. This saves our clients not only time, but money as well.
Test how getsix® Extranet works »
If you have any questions regarding this topic or if you are in need for any additional information – please do not hesitate to contact us:
CUSTOMER RELATIONSHIPS DEPARTMENT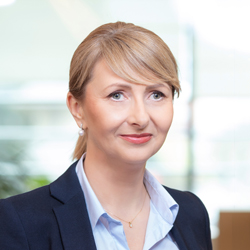 Elżbieta Naron
Head of Customer Relationships
Department / Senior Manager
getsix® Group



***
This circular is non-binding information and serves for general information purposes. The information provided does not constitute legal, tax or management advice and does not replace individual advice. Despite careful processing, all information in this circular is provided without any guarantee for the accuracy, up-to-date nature or completeness of the information. The information in this circular is not suitable as the sole basis for action and cannot replace actual advice in individual cases. The liability of the authors or

getsix®

are excluded. We kindly ask you to contact us directly for a binding consultation if required. The content of this circular is the intellectual property of

getsix®

or its partner companies and is protected by copyright. Users of this information may download, print and copy the contents of the circular exclusively for their own purposes.