getsix® provides for our customers an e-Service called getsix® 'Mobile Customer Extranet'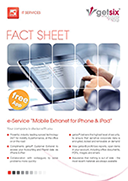 If you are a customer using either of our solutions for Finance & Accounting, or/and HR & Payroll, or/and Office Management, we store your relevant monthly data, and/or reports (i.e. Correspondence, Income Statement, Management Accounting Reports, etc.) on our getsix® Customer Extranet. Our Customers Extranet solution is based on Microsoft SharePoint technology and can be accessed from any Internet connection 24/7 with any Internet browser.
Additionally it is possible to access the data which are stored in our Customer Extranet directly via your iPhone or iPad. To make this working we provide a e-Services called getsix® Mobile Customer Extranet. You just need to download Colligo Briefcase Lite or Colligo Briefcase Pro to get connected to our datacenter where the data are stored in the getsix® Cloud.