Order-to-Cash (O2C) Outsourcing
With respect to global economic meltdown many companies are under intense pressure to curb costs. They are doing most of the obvious things like reducing of marketing and general administrative expenses, eliminating staff and optimising there ERP systems. Most companies are operating from multiple locations, so they incur higher expenses and profit leakage, when the handover of processes are not managed effectively.
Fully optimising the Order-to-Cash (O2C) process, by providing innovative billing solutions, and using O2C analytics to implement sales programmes that target credit worthy markets, can significantly impact top-line revenue. Add in, the traditional benefits of optimising the O2C cycle, such as reduced operating costs and we can see that organisations taking these measures will be in a significantly improved position, with the ability to offer reduced ad-costs in order to compete in the market.
Technology is key here and organisations seeking to capitalise on these benefits will need an outsourcing provider with a strong technology backbone. Elements such as a streamlined collections platform, automated matching and a scalable global payments platform, will be the real enablers to success when seeking to reap top and bottom line results.
Order-to-Cash normally refers to the process in which taking customer sale order via different sales channels like email, internet, sales person, fax or by some other means like EDI, and then fulfilling the order, shipping, logistic, then generating an invoice and collecting payment for that invoice, and then receipt. If we consider the flow, this can be further categorised into seven sub-process like:
Customer;
Order entry (creation of order/booking of order);
Order fulfilment;
Distribution;
Invoicing;
Customer payments/collection;
Receipt.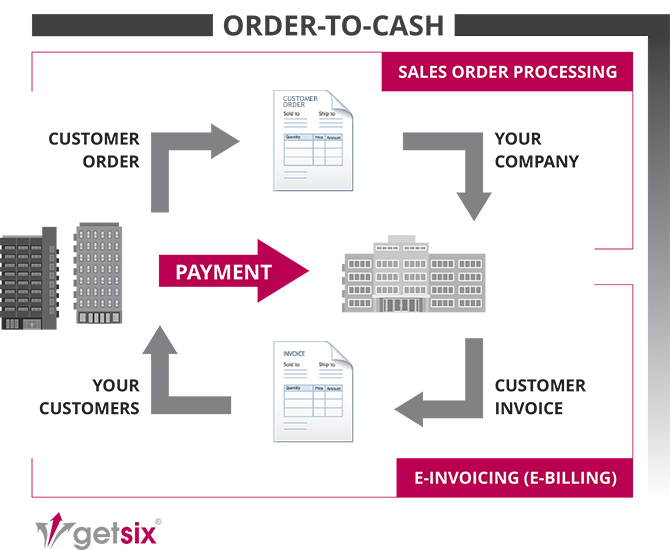 The Order-to-Cash processes are perhaps the most customer-facing in Finance and Accounting (F&A). They support a businesses revenue objectives by actualising sales. To deliver business value, the O2C value chain needs to be accurate (to ensure no leakages), quick (to generate cash flows) and optimised (to manage key assets, e.g. accounts receivable and inventory).
Why choose getsix® for managing Order-to-Cash processes?
The value which getsix® F&A team can add to your current work processes, is by changing your current operating model with highly skilled resources, working according to your organisations environment. getsix® acts as your business partner, while working consistently to deliver quality, flexibility, innovation and value. Our approach is not only decisive on the delivery of sustainable cost advantage and process transformation, but is totally backed up by our deep domain expertise in finance and accounting, our ability to deliver sustainable cost savings, operational excellence and performance transformation. getsix®partnership approach means we have the ability to be flexible in responding to your business needs.
getsix® supports your sales objectives by managing O2C performance through technology, know-how and process knowledge, for information-based decisions and exception management, with complete data and process integrity.
By outsourcing Order-to-Cash processes to getsix®, organisations are able to:
Reduce working capital tied in accounts receivable;
Reduces costs of operations and increase cash flow;
Resolve customer issues faster resulting in improved customer satisfaction.
Our Order-to-Cash (O2C) services are:
Accounts Receivable
Cash application;
Debit/Credit notes;
Credit control;
Payment follow-up;
DSO management;
Bad debts provisions & write-offs.
Collections
Credit control;
Payment follow-up;
DSO management;
Disputes management;
Revenue recovery.
Order Management
Order entry;
Order tracking;
Service management;
Database management;
Credit check;
Customer master file maintenance.
Billing
Freight & tax accounting;
Invoice adjustments;
Sales accounting/revenue accounting;
Commission accounting;
Accruals;
Fraud monitoring.
Reporting Analysis
Sales trend analysis;
Revenue forecasts;
Cash management;
Budgeting & planning;
Month end reporting;
Forecasting.
Manage your Order-to-Cash Tasks with our BPaaS Solution
We have made significant investments in building technology-led solutions, with P2P platform-based services emerging as an essential component to market success. Of course, the biggest advantage goes to the customers who are the ones that truly benefit from the ongoing investments and upgrades.
Here at getsix®, we are pleased to offer CAUSANDUM, our cloud-based BPaaS solution.
This solution is unique in its value proposition of guaranteed savings, which is offered nowhere else in the industry. We guarantee that our expertise in business process transformation combined with a state-of-the-art ERP system to translate into savings for your organisation.
The cloud-delivered platform is designed to enable and enhance your O2C operations by bringing them under a single, standardised platform. This platform supports advanced workflow, automation and visibility across the O2C range, from cash collections and dispute management, to cash application and reporting.
If your company is considering professional outsourcing, supported by outstanding customer service, CAUSANDUM might be the solution you're looking for. And, often the savings acquired mean you achieve accounting transformation for free – talk to us to learn more.
The getsix® Advantage
Single window, end-to-end O2C Outsourcing (MS Dynamics ERP platform, process management, maintenance and hosting);
Multi-lingual service (English/German/Polish);
getsix® proprietary BPM tool – Kofax KTA provides real time visibility into operations;
Best practices and automation tools lead to efficiency, and optimal productivity consulting led transformation combining IT and process outsourcing;
Skilled FAO consultants (CA, CPA);
Value based deal structuring;
Innovative, flexible delivery models.