Microsoft Dynamics NAV 2009 | Microsoft Dynamics NAV 2013
"8 modules for a complete solution"
Microsoft Dynamics NAV is a complete ERP solution. 8 modules to help you manage every aspect of your business.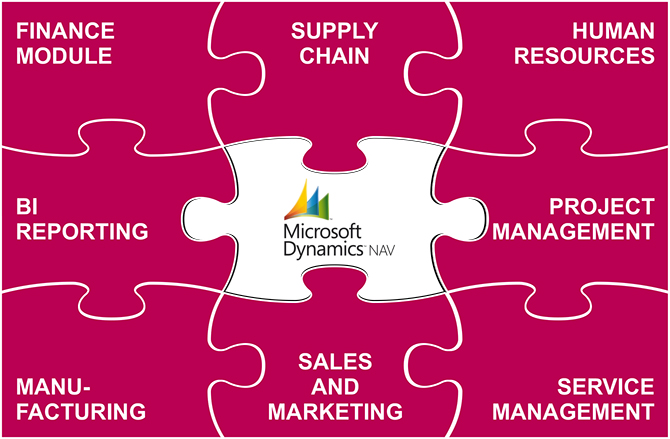 Finance module: Financial management, Fixed asset, Payables, Receivables and Multicurrency.
BI reporting: Create report, consolidate reports and link to excel.
Manufacturing: In-production Order Management, Managing Work Centers, Sales Order Pre-Production and Post-Production.
Supply Chain: Warehouse management, Inventory management, Supply planning and bus notification.
Sales and marketing: manage contacts, build marketing campaigns and customer relationship management
Service management: organise service resources, manage contracts and build long-term relathionships.
Project Management: Plan projects, manage jobs and manage budget.
Human resources: Manage human resources, payroll management and manage employee data.
Finance

Microsoft Dynamics NAV provides accounting and finance solutions helping us, to track and analyse your business information. With end-to-end integration, we can efficiently manage your general ledger, payables, receivables, inventory, analytical accounting, fixed assets, and cash flow, in addition to performing bank reconciliations and collections. We can even manage your financial processes across multiple currencies, locations, or companies.

Financial Management: Monitor fiscal performance, meet business and regulatory requirements, and helps us to reduce time and efforts our people spend on your accounting tasks to reduce our costs to offer you professional and price attractive accounting services.

Fixed Asset: Microsoft Dynamics NAV helps us to control and manage the entire life cycle of your fixed assets from acquisition to disposal.

Payables: Help drive efficiency and maximize cash resources with flexible, integrated accounts payable capabilities.

Receivables: Optimise cash flow by streamlining accounts receivable processes and tracking your customer payments.

Multicurrency: Multicurrency support in Microsoft Dynamics NAV helps us, if you expand into international markets and reduces the complexity of global transactions.

Documents PDF:

Finance Module – Brochure

Multicurrency – Brochure

Payables – Brochure

Fixed Assets – Brochure

General Ledger – Brochure

Receivables – Brochure

Video files:

Fixed Asset

Payables

Receivable

BI Reporting

Microsoft Dynamics NAV gives us direct access to you real-time, business-critical information and a wide range of analytical tools to help you manage budgets, create and consolidate reports, and look for trends and relationships.

Linking Microsoft Dynamics ERP with Microsoft Excel 2010

Combining Microsoft Dynamics ERP business applications with Microsoft Office 2010 helps our customers to empower their people, simplify how work gets done, and connect more closely with their business partners and customers.

Documents PDF:

BI Reporting – Brochure

BA Reporting – Brochure

Video files:

Reporting features

Link NAV with Excel

Manufacturing

With Manufacturing in Microsoft Dynamics NAV, our customers can boost operational efficiency and effectively manage production, including production orders, bills of material, supply planning, and capacity requirements planning. Flexible processes and integrated information equip you to make accurate promises to customers, respond quickly to last-minute requests and changes, and take advantage of new business opportunities to help your business stay ahead of the competition.

Improve business performance from the shop floor to your bottom line. Streamline your operations by automating manufacturing processes and gain greater visibility into all aspects of your operations from order entry to production, warehouse management, and delivery.
Provide your customers with information they can count on. Increase the accuracy of promised orders and respond quickly to your customer queries about order status and delivery.
Improve your ability to manage product recalls.
Respond quickly to changing your customer demands with agile manufacturing. Plan rush orders, make exceptions, and handle last-minute changes to your manufacturing processes with multiple planning options, tracking, and interactive action messages.
Open your business to trading partners around the clock. Using a Web browser, vendors can manage catalogs, enter drop shipment orders, and maintain delivery dates.

Documents PDF:

Manufacturing – Brochure

Video files:

In-Production Order Management

Managing orders

Managing Work Centers

Manufacturing / Post-production

Manufacturing / Sales Order Pre-Production

Supply Chain

With Microsoft Dynamics NAV for supply chain management, you get the tools you need to respond quickly to your customers, rapidly pursue new market opportunities, and improve profitability by working efficiently with trade partners. You can tighten distribution processes and improve inventory management for single- or multi-site warehouses, in addition to handling order processing and demand planning.

Optimise cash flow by streamlining accounts-receivable processes and tracking customer payments.
Help drive efficiency and maximise cash resources with flexible, integrated accounts-payable capabilities.
Match the goods you have on hand with customer demand while reducing inventory and distribution costs.
Integrate warehouse processes with the rest of your business to help you manage goods and space more effectively and reduce costs and waste.
Satisfy demand with multiple planning options and tracking of utilisation and materials costs. Microsoft Dynamics NAV can help you implement production decisions quickly and make last-minute order changes.
Fuel productivity throughout your supply chain and respond quickly to shipment delays, order changes, and low inventory.
Speed critical documents through sales and purchasing, standardise approval workflows, and enforce approval limits.

Sales and marketing

Microsoft Dynamics NAV can give people in your organization access to accurate, up-to-date information and the tools to efficiently manage contacts, opportunities, and campaigns – while building customer relationships that help drive sales and encourage loyalty. Everyone in your organisation can get the information they need to interact with customers in a profitable way and make smart decisions based on accurate information about every contact. You can also automate routine sales, marketing, and customer-service tasks to make your work environment simpler and more efficient.

Documents PDF:

Sales and marketing – Brochure

Video files:

Streamlined document approvals

Service management

Make your service operations more profitable with Microsoft Dynamics NAV service management software. Microsoft Dynamics NAV service management software can help you organise your service resources for optimum efficiency, forecast and track parts consumption, proactively manage contracts and service agreements, and gain tighter control over costs. In addition, you'll be able to build and establish long-term relationships with your customers with service-contract management and consistent logging and tracking of equipment and services.

Respond quickly to customer-service requests and use information from across your business using Microsoft Dynamics NAV service management software to make profitable decisions about the costs, inventories, workloads, and financial returns of your service operation.
Equip people in your organisation to manage contacts, opportunities, and campaigns efficiently while building customer relationships that help drive sales and encourage loyalty.

Documents PDF:

Service management – Brochure

Project management

Microsoft Dynamics NAV helps you plan and manage jobs and projects with support for budgeting, billing, and resource management. You can manage project costs efficiently by tracking resource expenses and usage, planning capacity, and predicting availability. By monitoring projects effectively, you can make confident, informed decisions based on comprehensive information.

Human resources management

Microsoft Dynamics NAV human resource (HR) software helps us to manage human resources (HR) by organising and controlling information about your employees. The human resource management solution delivers a range of reports for analysing employee data to help you track your most important asset — your people.

Documents PDF:

Human resources management – Brochure

General

Documents PDF:

Upgrade to NAV 2009 – Brochure

Documents DOC:

Microsoft Dynamics NAV Statement Of Direction